Safe Zone Allies: Sanctuary for Students
Feeling alone, feeling like you don't belong or feeling like no one will understand? Talking to a Safe Zone Ally might be the answer to your problems.
According to Outreach Coordinator of Student Counseling Services, Beth Turner, the Safe Zone Allies program was originally created to help raise LGBTQ awareness and create a sense of unity around campus.
"The Safe Zone program at Cal Lutheran started as a way to build safety for underrepresented groups on campus. Minority students need campus support, resources and allies while facing hardships and discrimination," Turner said in an email interview.
Turner also mentioned in her email interview that Student Counseling Services is working on renovating their training program in order to include trainings focused on minority groups which include groups dealing with issues of race, economic status and religious beliefs.
Director of Student Support Services (SSS), Elena Jaloma-Scott, is excited to see that Safe Zone Allies is continuing to grow.
"Before it was kind of this very small thing and it has really grown into something big, but what I think is really great is its creating awareness on campus, so it's not just like a select few are Safe Zone Allies anymore. We are spreading between student leaders to faculty and staff that can be Safe Zone trained," Jaloma-Scott said.
Jaloma-Scott believes that Cal Lutheran's efforts to be a Safe Zone-trained campus emphasizes our mission statement values.
"It's opening up to the campus climate to be more accepting…and all these other pieces of who we are as Cal Lutheran, being Safe Zone trained is just another element to that," Jaloma-Scott said.
Jaloma enjoyed the extra training that Safe Zone Allies provided her with because it truly strengthened her day-to-day tasks at SSS.
"I felt that it fell in line with the way that I hold my standards to meeting with students and to the support that I provide to students, like having an open door policy, having a space where students can feel safe and welcome and feel like there is no judgement, no fear of any negativity coming through, but just a place for students to come in and talk as needed," Jaloma-Scott said.
Faculty member, Robyn Ballard, displays her Safe Zone sticker outside her office with pride and hopes that it gives students a sense of relief to know they are in a safe and supportive environment.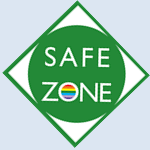 "My hope is that every student on campus feels emotionally and physically safe in an inclusive environment. Reaching out for help can be scary; however, the Safe Zone sign at my desk will hopefully be an indicator that the student has found an ally in me," Ballard said in an email interview.
Ballard, like Jaloma-Scott, believes that the Safe Zone Allies training has helped her to better understand each and every student's individual needs.
Director of International Student Services, Juanita Hall, was the original advocate for Safe Zone Allies back in 2007 when the program was first established.
"It was actually my idea to bring it to campus so I've been involved since its inception in 2007 as one of the first projects of our Campus Diversity Initiative. I invited Dr. Gail Uellendahl, Dr. Adina Nack and Dr. Alan Goodwin, to work with me on the training curriculum for a Safe Space Ally Program [original title].  Our first groups who trained as allies were faculty and staff.  Several years ago, we began also training student allies," Hall said in an email interview.
Hall's influence is the reason that Safe Zone Allies does not focus on just one minority group and looks to find more ways to reach out to students who are feeling underrepresented.
Turner encourages Cal Lutheran students to join the student Safe Zone Allies training in spring semester and hopes to keep raising awareness for the program. Students can visit the Safe Zone Allies website for more information about the training as well as different events sponsored by the Student Counseling Services office. Some of the events Turner highlighted are National Depression Screening Day (held Oct. 5), National Alcohol Screening Day and a "Love Your Body" event for Eating Disorder Awareness in the spring.
"Student Counseling Services has a strong commitment to diversity, social justice and wellness, and so we want to make our services more accessible to students, faculty and staff who would like to become allies," Turner said in an email interview.
Sam DiMaggio
Staff Writer