Campus Renovations New to Cal Lutheran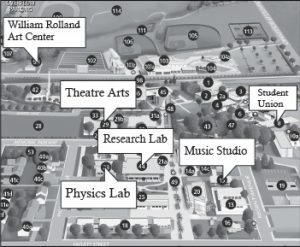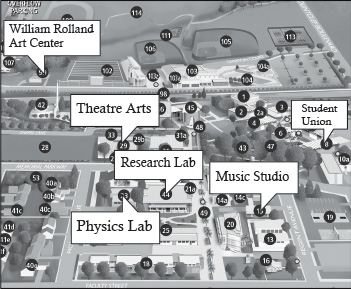 William Rolland Art Center
At an estimated cost of approximately $8.5 million, multiple buildings at California Lutheran University are undergoing renovations, including the addition of a new fine arts facility.
Construction is underway for the William Rolland Art Building, located near the William Rolland Stadium, which will hold studio arts, multimedia and graphic design classes, as well as offices for faculty. The first floor will include a student art gallery and a small open-air events patio. The William Rolland Art Building will take the place of the current arts department location, known as the F Building, which will be replaced in the future with a new science building.
• Location: North side of campus, near the Gilbert Sports Arena
• Estimated Cost: $8 million
• Date of Completion: Fall 2017
Research Lab
Since two new professors were recently hired, research lab and office space is being added to the Ahmanson Science Center. 
"In the process, unfortunately, we did remove a small computer lab/study room that science students used to use for tutoring sessions and occasionally a lab class that required computing," said Assistant Biology Professor Chad Barber.
However, computer stations will be installed in the lobby along with new furniture.
• Location: Ahmanson Science Center, near Jamba Juice
• Estimated Cost: $60,000
• Date of Completion: Labs completed this week; lobby furniture and computer stations to be completed in late October 2016.
Theatre Arts
Cal Lutheran's Theatre Arts Building is receiving the addition of two new enclosed classrooms, as well as the enclosure of the costume shop. Formerly, the two classroom spaces were separated by a 7.5 foot cubicle wall and curtains.
"Currently, because of the noise bleed between spaces, only one class at a time can be held…The benefits of this remodel will serve both theatre students and other students who take theatre classes," theatre professor Michael Arndt said.
• Location: Theatre Arts Building, near the Mail Center
• Estimated Cost: $300,000
• Date of Completion: January 2017
Student Union
In the Student Union building, an office is being built for Student Life Coordinator of Recreational Sports Brett Billet. Since his office is going where there was formerly a study room, a new meeting location has been added, furnished with a whiteboard, couch and chairs.
• Location: Student Union
• Estimated Cost: $7,000
• Date of Completion: October 1, 2016
Physics Lab/Music Studio
The physics lab and Zimmerman Music Practice Studio are  receiving some improvements. Two existing labs are being renovated, one of which is being re-configured for larger physics projects. In the music studio, new acoustics are being installed for the classrooms and practice rooms.
• Locations: Zimmerman Music Practice Studio near Kramer Hall; physics labs in the D Building.
• Estimated cost: $58,000
• Date of completion: Physics labs to be completed late October 2016; acoustics to be installed by January 2017.
All information included in this article was provided by the Facility Operations and Planning Capital Project Manager Tony Adragna, Senior Project Manager Valerie Crooks, Michael Arndt, Chad Barber and Associate Vice President for University Advancement Kristine Calara.
Dakota Allen
Staff Writer