California Lutheran University is home to three active beehives and is introducing a new club this year called the CLU Beekeepers Club. The CLU Beekeepers Club is a way for students to get involved with the bees on campus while also spreading awareness that bees hold an important role in sustaining a healthy environment.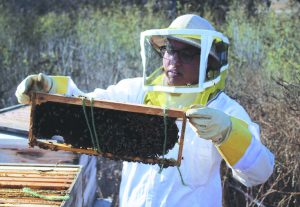 Bees are a crucial part of the ecosystem and without pollination through bees a lot of the foods we consume would not be able to grow.
According to the Natural Resources Defense Council, "Cross-pollination helps at least 30 percent of the world's crops and 90 percent of our wild plants to thrive. Without bees to spread seeds, many plants—including food crops—would die off."
President of CLU Beekeepers, Nakiessa Abbassi said, "It's a really great club to get together with like minded people who are also very interested in the environment and to help sustain it."
Adviser and founder of the CLU Beekeepers, Dr. Brian Rasmussen, said the club began with the SEEd project, which stands for Sustainable Edible Education. The Cal Lutheran Sustainability page describes the SEEd project as a garden on campus where students get involved in promoting the growth and purchasing of local produce.
"The Beekeeping Club is new this year. We've had bees for a number of years and we've had students involved with bees through the SEEd project which hosts the bees, but this is the first year we've made it into an actual club," Rasmussen said.
The club members hope to use the bees to promote outreach and to teach people the various ways they can do their part as individuals in keeping our planet healthy.
"The things that we have been emphasizing are education and outreach, using bees to teach people about sustainability and about issues in local pesticide use and agriculture. Bees are a very interesting think piece considering issues that affect us everyday," Rasmussen said.
CLU Beekeepers Club also wishes to educate people on the rapid decline of the bee population and the negative effects it has on the environment.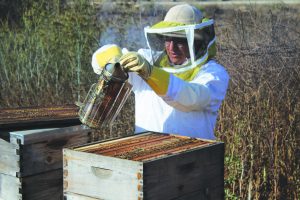 "There are a lot of issues being faced by bees in general. In our local area there is an issue with bees dying off, it's called Colony Collapse Disorder. The whole premise of Colony Collapse Disorder is there is something out there that is causing beehives to die off. The bee population is actually dying off at a rapid rate," said Vice President of the club Raquel Centeno.
One way the club members spread awareness is by visiting local schools and getting other students involved in this movement. Rasmussen said the club members have taken the bees to local grade schools, including Sycamore Canyon School in Newbury Park, and have held beekeeping workshops to get others active in advocating for this type of sustainability.
Students involved in the club get close and personal with the bees. Members get dressed into bee suits in order to interact with the bees to check if the bees are healthy and still active in pollination.
"We crack open the supers and look in and see how much honey they are producing which is a pretty good indicator of the heath of the hive. If they are producing a lot of brewed (babies) and not a lot of honey that means that they need more bees in their colony to help with the overall pollination," Abbassi said.
Another project the CLU Beekeepers are active in is selling the local honey that is raised here on campus.
"We actually extract honey from the beehives. It is actually pretty beneficial in the way we do it because it helps make sure that there is a healthy life cycle in the hive," Centeno said.
According to Centeno, the beekeepers sell six-ounce jars for $6 on campus and will attempt to do so three to four times a year depending on if the seasons bring in enough flowers for the bees to pollinate from.
All three active officers, Abbassi, Centeno and Rasmussen, would like to see the involvement for this club expand and grow in team members so they can continue to raise bees as well as raise awareness and make a bigger difference.
To see exactly what the CLU Beekeepers are doing, one can follow their Instagram page @CLU_Bees. If you are interested in joining the CLU Beekeepers Club you can email Nakiessa Abbassi at [email protected].
Maryssa Rillo
Staff Writer