Our Very Own Olympian, Cody Jones
September 27, 2016|22 Views
Every four years, children crowd around the TV dreaming of the chance to wear red, white and blue to compete for their country. Cody Jones, senior javelin thrower at California Lutheran University, made this dream a reality. Jones recently returned home from Rio de Janeiro, where he competed at the 2016 Paralympic Games.
"Everything has been working out, like there is some huge plan going on. It was just a cool feeling knowing I was where I was supposed to be," Jones said. "You don't get that much in life, but I knew exactly that I was supposed to be in Rio. It was a good feeling of contentment, peace and joy. I couldn't stop smiling."
Jones' road to Rio was anything but traditional. His journey began in high school while playing baseball. He was approached by a writer for the Los Angeles Times, who was interested in doing a story about him and his unique glove flip. This glove flip was necessary for Jones because he was born with cerebral palsy.
The glove flip came into play because he would field the ball, flip the glove up and then catch the ball bare-handed with the same hand and throw. It sounds complicated, but it was this trick that began the road to Rio for Jones.
"It was from the article that Cathy Sellers, director of high performance for United States Paralympic track and field, found me. That's what led me to throwing the javelin," Jones said. "That article changed my life."
Cerebral palsy is something Jones has been living with his whole life, he was diagnosed at the age of one.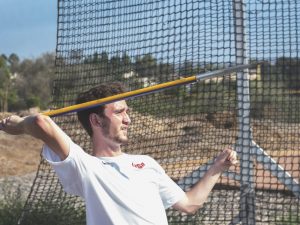 "It is an impairment between your brain and some of the muscles within your body. So someone with cerebral palsy does not have as much control of some of his or her muscle movements," Jones said. "For me personally, when I was born my brain didn't get enough oxygen to the right side of my brain. So the communication between the right side of my brain and the left side of my body is weaker and a little damaged."
The road continued to wind though, as Jones found out he did not make the Paralympic team. His family had saved money for years in hopes of making this trip, but now it was going to their back-up plan: remodeling the kitchen.
According to Jones, just 24 hours after finalizing the remodeling plans, he got a call. Due to the Russian doping ban, the United States team was adding to their roster, and they wanted him. Now his funding to get to the games was the task at hand.
"The support I got from the community was amazing. My church body, the school body – everyone surrounded me," Jones said. "We started a GoFundMe, and it got to the point where it was trending. We were able to raise $7,000 in less than two weeks."
Soon Jones had enough money to bring his mom, dad, grandma and coach Justin Puccinelli. Allie Hadley, who paid her own way to cheer Jones on, also supported him on the trip.
"It was incredible for him to be center stage for something so amazing," Puccinelli said in an email interview. "Team USA treated him very well. The facilities were grander than everything anyone has ever seen since they are the same venues as the Olympic competitors."
As for the competition, Jones placed eighth out of nine in his group. The groups for track and field events are split up by classification depending on disability and severity of disability. In simple terms, they divide the groups up to make the playing field as equal as possible.
"If you noticed when I threw, I wasn't throwing against anyone in wheelchairs or any amputees. I was just throwing against other people that had similar impairments to myself, so cerebral palsy, brain trauma or stroke," Jones said.
He was listed in the 38 class, which is for high-level cerebral palsy. Though he was unable to step up on the podium and receive a medal, Jones was just thrilled to be there and participate.
Since Jones has a mild case of cerebral palsy, Puccinelli said they do not have to make many adjustments to the way he throws.
"Jones is every coach's dream. He shows up on time and ready to work every day. He puts in the extra effort and wants to get better," Puccinelli said in an email interview. "Sometimes adjustments occur, but this isn't a problem whatsoever because it allows us to think outside the box for a new, fun way of doing things."
It is hard to find a negative thing about Jones, especially his approach to his sport. Cal Lutheran Coach Matt Lea praised Jones as a person and athlete in an email interview.
"He carries himself in such a way that is very contagious," Lea said in an email interview. "His work ethic on and off track and field are the reasons why Jones has been so successful this far and will continue to grow even more. Jones told me that the first time I met him he was going to make the team."
Jones wanted to work toward his goal of the Paralympics, and now he conquered it. He had competed with the best from around the world, and it is that experience that makes Lea excited to see the leadership Jones can bring to the table when Cal Lutheran track and field begins again this spring.
As if Jones has not had the experience of a lifetime already, he and the entire Olympics and Paralympics team has been invited to the White House to meet President Obama.
"How many times do you get to meet the leader of our country? We get to shake his hand, maybe even take a selfie," Jones said.
Jones has had quite the adventure, starting off with a trip to compete in the Paralympics, and next is visiting the White House.
Thank you for representing our school and our country during your road to Rio. Welcome home, Cody Jones.
Makenna Pellerin
Staff Writer