Raising Annual Fund Awareness
On Sep. 16, the Student Philanthropy Council held its monthly Philanthropy Phriday event on The Spine. Philanthropy Phriday is an event run by the Student Philanthropy Council to help raise awareness for the California Lutheran University Annual Fund while promoting donor appreciation on campus. Ariel Coates, adviser of the Student Philanthropy Council and project coordinator of the Annual Fund, discussed the values of the club.
"Philanthropy Phridays are centered on teaching the importance of donor support in hopes of creating a feeling of gratitude and appreciation among students," Coates said.
Junior Heather Chandler, president of Student Philanthropy Council, discussed the importance of donating as well as, all the factors that a student's class gift can contribute to Cal Lutheran's campus.
"The class gift becomes a part of the Annual Fund, and the Annual Fund assists in scholarships, financial aid, a quality education, keeping class sizes small and the quality of student life. So it funds things like books in the library, technology and anything that's required for lab sciences stuff like that around campus that directly impact students," Chandler said.
Coates and Chandler both highlighted that the biggest part of the Class Giving Challenge is participation.
"Since class gifts vary depending on what year a student is, the challenge is based on participation. Currently, seniors are in first place with a total of 25 percent participation. Freshmen are next with 11 percent participation, juniors following with 6 percent participation and sophomores at 4 percent participation. The total raised so far between all classes is $5,090 (30 percent of the $17,000 goal)," Coates said.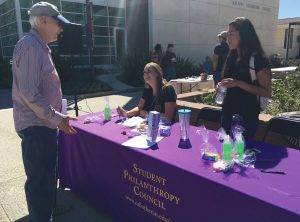 This month's Philanthropy Phriday included a table where students could answer questions about the Annual Fund and receive some sweet treats if the questions were answered correctly, or a free bag of kettle corn from California Kettle Corn if they made their class gift. Student Philanthropy Council member Gabby Sainz said in an email interview that the California Kettle Corn stand will be a Philanthropy Phriday tradition and said how it benefits the Annual Fund.
"This year every Philanthropy Phriday we'll have a free kettle corn stand for students who give their class gift. The popcorn is also for sale and 10 percent of the proceeds go towards the Annual Fund," said Sainz in an email interview.
Sainz also stressed the importance of giving back and how donating to the Annual Fund can make a difference.
"I tell students that it's just so important to give back to the school that gives so much to you. The Annual Fund plays a big role in providing student scholarships which is something the majority of students here rely on," Sainz said in an email interview. "The way I think of it is that generous donors (alumni, students, friends and parents) have invested their money in your education by contributing to the Annual Fund, so it's just common courtesy to give back and pay it forward by giving your class gift. Anything as little as $10 for the whole year goes a long way."
Coates reminded students that their class gift supports all programs and offices on campus and if students choose so, they can specify that their gift go to a specific department.
Senior Mary Crocker decided that she wanted to give her class gift to a program that gave so much to her experience at Cal Lutheran, the Study Abroad office.
"For me it felt like I had an opportunity to give back since Cal Lutheran has given me so much, and specifically I selected to put my donation toward Study Abroad because they helped me have such an incredible experience through their generous donation that really helped me to explore all over Europe, and it was a once in a lifetime opportunity. So I feel like now I'm in a position to give back and help those in the future do the same," Crocker said.
Chandler stated that Tuition Free Day is one of Student Philanthropy Council's biggest events and usually occurs in March. Coates discussed the importance of this event being held in the month of March.
"Tuition Free Day is dedicated to donor appreciation…tuition only covers 85 percent of what it costs to actually educate a student so we fill that 15 percent gap though donor donations. It's a symbolic day basically where we're 85 percent through the year and so what would happen if you had to pay for the rest of that 15 percent?" Coates said.
Sam Dimaggio
Staff Writer