Public Relations Student Society of America hosted their very first event of the year Sept. 27 in Swenson 101 at 6 p.m. The meeting was headlined by speaker Artis Twyman, the senior director of communication for the Los Angeles Rams, and he spoke about what it is like behind the scenes in the National Football League.
Twyman, who has been a part of the Rams organization since 2003 when they were located in St. Louis, opened up the meeting by talking about how he got started in public relations back in college and how internships helped him get to where he is now.
"Take chances. Get out of your comfort zone a little bit," said Twyman, who went from Houston to the Seattle Seahawks following his internship with the Texans back in 2001.
Twyman shared his experiences within the media and how he and the organization dealt with things such as the Ferguson shootings. The Rams hosted a local Ferguson high school and allowed them to practice in their indoor facility. He also shared the  story of Maurice Alexander, who was drafted by the team back in 2014. Before making it to the big time, Alexander had worked as a janitor at Edward Jones Dome, which was the site of where the team played in St. Louis.
Twyman then went on to talk about the transition of the organization from St. Louis to Los Angeles and just how fast the move was for everyone who is apart of the organization. According to Twyman the big move to LA took about three months and then the journey of the Rams to Los Angeles was in full swing.
The function came to a close with a brief question and answers segment with Twyman.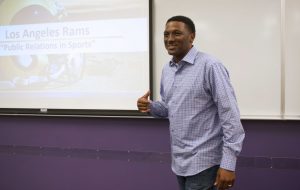 The arrival of the Rams on the California Lutheran University campus doesn't just bring a football team to the area, but also brings opportunities for students.
"One of the things we were talking about when we were coming to Cal Lutheran is that it would be a great opportunity for us to get students involved in what we do," Twyman said. "Students don't know all of the opportunities that there are in sports… there are people involved with all types of aspects."
According to Twyman, the Rams being on campus is "a great opportunity to educate students on what happens with a team in the National Football League and maybe get them some opportunities to work with us, and see if this is something they may want to do."
This being the first event of the year for PRSSA, they had to advertise and market the event in order to get the largest turnout possible, according to Krystal Rhaburn, the treasurer of PRSSA.
For this meeting she and all other board members coordinated with their faculty advisor Dr. Jean Kelso Sandlin to reach out and bring in their guest speakers.
PRSSA sectretary Lisa Hemmingsson talked about Sandlin and how she was a big help this past meeting and how much help she is as a whole.
"PRSSA is a great way for students to get knowledge and networking opportunities. It opens up a world into PRSA… There are more than 11,000 students making up more than 300 chapters in the United States," Rhaburn said.
The next PRSSA meeting is scheduled for Oct. 18, where they will be having a CEO of a PR firm come in to talk about her career and give advice to students, according to Rhaburn.
If you would like any more information on the club itself contact [email protected] or attend the next PRSSA meeting.
Gabe Naudin
Staff Writer