Kingsmen and Regals Compete in First SCIAC Multi-Duals of Season
On Oct. 1, California Lutheran University's distance team competed in Southern California Intercollegiate Athletic Conference Multi-Duals at La Mirada Regional Park. The Regals finished in seventh while the Kingsmen finished in ninth.
La Verne University, Chapman University, Pomona-Pitzer College, Whittier College, Claremont-Mudd-Scripps, California Institute of Technology, Occidental College and University of Redlands competed with Cal Lutheran's runners.
"This year SCIAC Multi Duals is more of a preview meet and does not count too much against our SCIAC standings. We obviously still want to do as well as possible but the ultimate focus is to be fully prepared to have our best meet of the season at SCIAC Champs on Oct. 29," Assistant Coach Brett Halvaks cross country/distance said in an email interview.
The Regals ran a 6k, which is a little over 3.5 miles. Their team averaged 26:07.70. Freshman Erin MacNeil finished first for the Regals with a time of 24:28:04 for the second time in a row. Senior Sarah Parsons finished second for the Regals with a time of 25:47.76 and freshman Rachel Ereso ran 25:54.76 to finish third for the Regals.
The Kingsmen ran an 8k, which is just less than 5 miles. Thirteen Kingsmen ran in the meet and finished with an average time of 28:16.12. Junior Timmy Kahovec finished first of the Kingsmen with a time of 27:28.60, finishing 36 out of 127 competitors. Junior Christian Rider was the second Kingsmen to finish with a time of 28:10.22 and finished 57th beating his time from last year by four minutes. Senior, and captain, Daniel Tustin finished close behind with a time of 28:20.87 and finished 64th.
"I personally felt that I was in a good position to score against the other teams. However, I also feel that I haven't hit my full potential yet for this season. I also know that a lot of the other guys on the team have the potential to run faster and put themselves in a better position. We are going to do our best to accomplish that at SCIAC Championships at the end of the month," Tustin said in an email interview.
La Mirada is known to be a difficult course but Cal Lutheran did not let this impede their success and they continued to have a positive outlook.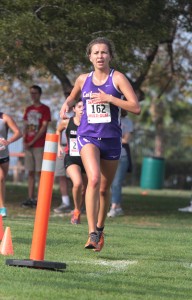 "This course is definitely one of the hardest courses that we run all year. However, all of the teams have to run on the same course and overcome the same obstacles. We just try to go out there and race and beat the individuals and teams around us, regardless of the course," wrote Tustin.
The team did make some training adjustments in order to compensate.
"We knew this course was hilly, so for three weeks we would do hill repeats back where the Ram's facility is up to the cross, so we do 300 meter hill repeats five times. So we just did that and prepared for this whole race pretty well for these hills. What we practiced the hills on was actually more steep but the course had more consistency up-hills," sophomore Michael Miller said.
The team has strong personal connections and they have bonding events such as team dinners. They use these connections to find strength during meets. Tustin is a great example of this dedication.
"I do my best to lead and motivate by example. I pride myself on hard work and I use that to push others during practice and show them that there are no limits to what they can accomplish. Being team captain is something that I am passionate about and love with all of my heart. I would do anything for my teammates, and I think that motivates them as well," Tustin said in an email interview.
The Kingsmen and Regals are scheduled to run Oct. 15 in Claremont at the Pomona-Pitzer Invitational at 7:45 a.m. and 8:30 a.m., respectively.
Anissa Frajio
Staff Writer