The university eligible for grant after being declared a Hispanic Serving Institute
On Sept. 27, California Lutheran University received a $4.63 million grant due to its first-year eligibility as a Hispanic Serving Institution. The five-year grant is called the STEM program, which stands for science, technology, engineering and mathematics related fields, and it will provide Cal Lutheran students with new and exciting experiences.
The STEM grant is only available to colleges that are officially acknowledged as a Hispanic Serving Institution, and was only granted to 40 recipients in California. This HSI recognition, which was finalized in early 2016, has opened many doors for Cal Lutheran students, particularly those interested in science. 
In order to become an HSI, an institution must meet particular standards, said Matthew Ward, the vice president of enrollment management and marketing at Cal Lutheran. In addition to having an over 25 percent Hispanic student population, there must be a certain level of financial need on campus.
"As an institution we are going to evolve and adapt and transcend what was our capability of serving a diverse population of students, and now do more to serve students, particularly students who are the fastest growing demographic in California," Ward said. "It doesn't mean that the things that we do are only to focus on Latino students, it's about building capacity to support all students."
The STEM program will receive just under one million dollars each year and will provide paid student research fellowships, internships, summer programs and four new staff members at Cal Lutheran.
"There are a number of things that we can now do that we weren't going to be able to do without the resources," Ward said.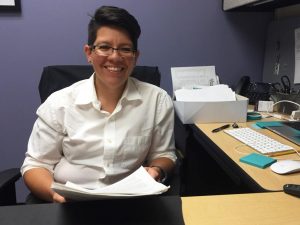 One of the goals of the STEM grant is to help students who have declared a major in a science related field, stick with it and graduate on time, said Dr. Akiko Yasuike, chair and associate professor of sociology. Yasuike chaired the task force of faculty members who worked to get Cal Lutheran its HSI recognition.
"We want to make sure that those students who really want to go into those occupations can not only survive but they can excel in these fields," Yasuike said.
Ward worked with Yasuike, along with a handful of faculty members, to assess if Cal Lutheran was ready to become a Hispanic Serving Institution. They started from square one and brought experts to campus for a few days to determine how feasible it was to be eligible for a federal grant, Ward said.
The idea is to benefit the entire student body, Yasuike said.
"The programs benefit the students, and because a larger percentage of the students are Latino and Hispanic, then those students automatically benefit from the new programs," Yasuike said.
Yasuike and Ward are not the only ones who are excited about the new HSI opportunities. Dr. Paloma Vargas, HSI coordinator and assistant microbiology professor, said that this benefits all Cal Lutheran students.
"In achieving HSI status, we are making a commitment to better serve our students and to fulfill our mission of preparing our students for a global society through a variety of methods," Vargas said in an email interview.
In 2011, 25 percent of the student body at Cal Lutheran was Hispanic. With that number closer to 30 percent this year, Vargas, Ward and Yasuike feel it is important to have as much opportunity available to all student demographics, especially ones that make up such a large portion of the student body.
"As a trained microbiologist, first-generation American and Latina, I am looking forward to creating and implementing the resources needed for our underrepresented students to succeed in the sciences. As we move forward with our HSI status, I look forward to seeing a more diverse faculty and student body," Vargas said in an email interview.
Alli Barton
Staff Writer