On Sept. 29, California Lutheran University hosted a multimedia and spoken word presentation to tell the story of the murder of three Muslim students, Deah Barakat, his wife Yusor Abu-Salha and her sister Razan Abu-Salha Feb. 10, 2015 in their home in Chapel Hill, North Carolina.
Their neighbor, Craig Stephen Hicks, was arrested and charged with three counts of murder for an alleged parking incident, however,  it is often described as a hate crime due to the victims' faith.
"We believe this was a hate crime perpetrated against them for being Muslim," said Mohammed Moussa, spoken word poet and presenter. "Particularly because if you look at the details of the case, there was no issue with parking that day."
This presentation, "Shattered Glass: A Multimedia Performance on the Impact of Islamophobia," aims to help ease the negative stereotype attributed to people of the Islamic faith, especially in the United States.
This event was also a presentation to combat Islamophobia. It incorporated images, videos and poetry to tell this story of their lives as a whole and their effect on others' lives, such as Moussa.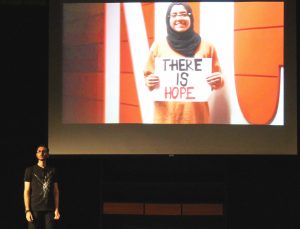 "I have been doing spoken word for about eight years now," Moussa  said. "But I did a performance as a means of documenting a human story. This story hit close to home for me particularly because of the way the community at Chapel Hill responded."
Moussa is an avid supporter of spreading knowledge about incidents like the one at Chapel Hill. He also wants the story of the modern Muslim to be told through the lens of truth, not of fear, according to Moussa.
"When this event happened in February," Religion Assistant Professor Rose Aslan said. "It really struck us to the core because the two woman that were killed were women who wore head scarves. If it was them, it could have been anyone else."
Aslan herself wears a headscarf and practices Islam along with being a scholar of the religion. She contacted Moussa to share his performance with Cal Lutheran as a means of growth and the building of bridges among the community.
"We had a vigil on campus after the events because it affected college students who look just like us. It really affects you when events like what happened in Chapel Hill happens to someone who looks just like you," Aslan said.
This is one way to contribute to the conversation, Aslan said.
The presentation was also meant to bring the community together and pick up the pieces of the shattered glass and to make mosaics out of the broken shards and create something that is more than what existed before.
"Minorities of religious groups are often misrepresented in the media. Not just the news but other forms of other TV and media in very incorrect ways. The media following the event were also slow to provide coverage and when they did, they did not want to come out and say it was a hate crime," Aslan said.
Throughout the presentation, video and photographs of the victims painted a picture of the lives they led. It was punctuated by Moussa's poetry.
"After viewing this, I feel like I want to reach out to the Muslim people in my community," attendee Melissa Rouge said. "I could definitely do more to build the necessary bridges."
After the performance, a panel was set up for the audience to ask Moussa, Aslan and local Muslim community member Rubina Ismael their questions, moderated by Associate Professor Colleen Windham-Hughes. Audience members asked questions about how one may learn more about the religion itself.
Events like this are planned for the future for both Moussa and Aslan as a way to help promote their standpoint on this religion, and spread across campus.
Connor McKinney
Staff Writer