Oceans Outreach: 'Be The Change You Wish To Sea'
There is predicted to be more weight in plastic than fish in the world's oceans by 2050, according to The World Economic Forum.
This Fall California Lutheran University approved a new club called Oceans Outreach working to change that prediction. Oceans Outreach is an environmental club that emphasizes the importance of conserving the oceans, as well as spreading awareness that every day actions negativity affect the overall health of the ocean.
According to the Protect Planet Ocean organization, "Oceans are the lifeblood of planet Earth and humankind. They flow over nearly three-quarters of our planet, and hold 97 percent of the planet's water. They produce more than half of the oxygen in the atmosphere, and absorb the most carbon from it."
Oceans Outreach is a way for students to come together and get involved in a movement trying to protect our oceans. As their website slogan reads, it is a way for active members to, "be the change you wish to sea."
"We want to just spread awareness about the environment and in particular the ocean, and how we are really affecting the ocean right now with global warming and all the stuff we are doing to harm the environment," said Vice President Brianna Pinal.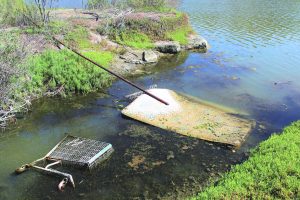 The club has already begun to partake in service projects such as a beach cleanup in Malibu Lagoon through an organization known as Heal the Bay and Coastal Commissions. Members listened to guest speaker Betsy Bowers from Heal the Bay talk about ocean related issues and how to counteract them. The club has just embarked on their efforts to make a difference and has plenty more planned.
"We want to really try and go to aquariums, conservations, museums, and we are hoping to go to Channel Islands Marine Institute and check out the Sea Lion Rehabilitation Center they have there," said Secretary Monica Echeverri. "We want to possibly adopt a beach, and maybe incorporate meditation on the beach."
According to Echeverri, by going to the Sea Lion Rehabilitation Center at the Channel Islands Marine and Wildlife Institute, a non-profit organization, members would volunteer their time to go out on a rescue trip in search for sick sea lions. The members would pick the sea lions up and take them back to the rehabilitation center where veterinarians would aid them back to health.
Members of Oceans Outreach also wish to adopt a beach. This means the club would actually adopt and take care of the beach they were given.
"By adopting a beach we would go and regularly check on our beach. We would be able to do our own personal beach clean up. It would be by Oceans Outreach, so then we could make it a campus wide event, and take more of a CLU initiative," said Treasurer Dixie Gladbach.
Not only does Oceans Outreach participate in actively doing their part in improving the current state of the ocean, but they want to personally connect with the ocean and accomplish a feeling of oneness with the environment.
"Through meditation we want to get people to get in touch with the ocean on a spiritual level. We want to teach people about how we can better our relationship with the ocean, because right now we are at a really bad state with our environment and our oceans are a huge part of our environment," Echeverri said.
According to Pinal, there are 12 active members at the moment but a lot of people have shown interest as well as have signed up to officially join the club. Pinal stressesd that even the smallest of actions or groups can have a huge impact.
"You don't really need to be this radical environmentalist to make a difference, you just have to do the little things and that goes a long way," Pinal said.
Oceans Outreach welcomes all Cal Lutheran students to join them in their efforts to make the ocean a better place.
The club meets every other Thursday from 11:25 a.m. to 12:15 p.m. in Peters Hall 101. You can also visit their website at www.oceansoutreach.squarespace.com which will lead you to their members sign up at the bottom of the homepage. You can also visit their instagram @oceans_outreach to learn more about how you can "be the change you wish to sea."
Maryssa Rillo
Staff Writer