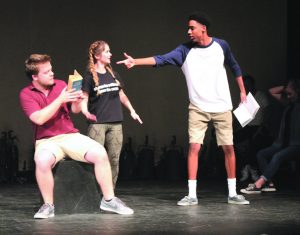 The California Lutheran University Improv Troupe just welcomed Ruth Smitherman, Cristian Lipps, Annika Dybevik, Mark Madera and Lane Young into the organization with open arms. Even though the five new improv actors are from very different majors, they've all successfully earned a place within the troupe.
Smitherman, a sophomore biology major, had taken the improv class both semesters of the 2015-16 school year, but wasn't able to get into the troupe until the beginning of this year.
"I'd done theatre stuff in high school," Smitherman said. "But I'd never done improv [until the class last year]."
Smitherman said the improv class was useful in understanding the mechanics of improv and performing up on stage.
"It's a lot of going and giving and taking. When people give offers, you have to make sure you either take it or give another offer," Smitherman said.
The other members of the troupe, such as junior TV/film communication major Lipps, have had a lot of experience with acting. For him, being a part of the Improv Troupe is in the pursuit of greater goals.
"I started acting when I was six, but it was just like little theatre stuff, and then I stopped," Lipps said. "I started acting seriously, like, professionally, in seventh or eighth grade, because I wanted to get on TV."
Lipps talked about how he visited Cal Lutheran his senior year of high school and realized he wanted to join the troupe after watching one of their shows.
"I came on the InCLUsive Overnight program trip here and I saw Eric Carthen, and he was a sophomore at the time, and so I was like, 'Yo, these dudes are funny, these dudes are hilarious,' and I came here next year, and I wanted to try out," Lipps said.
Lipps wasn't able to get on until his junior year, just like Madera, another junior and a business administration major with an emphasis in finance.
"I tried out before for the troupe, and I go to all the shows, and my sister is a theatre arts teacher at our high school, so she does improv games sometimes and she tells me about them," Madera said.
Although Madera didn't get on the troupe the first try, he continued going to shows and then tried out again. Now that he is on it, he said that he enjoyed being with the other members of the troupe.
"The people in the troupe are awesome," Madera said. "Really funny, really cool to hang out with and work with. And I think that's something that is really evident on stage, or you can really tell, that we all like each other, and that we all feel comfortable around each other."
For Dybevik, a senior double major in theatre arts and music, improv is within her range of talents, and certainly something that she loves to do.
"I have never taken the class here, it was kind of like a new thing for me to try out auditioning," Dybevik said. "I know I'm really like, what's the word, not shy, so I'm comfortable with being weird and stuff, so I was like why not try it out, and I love it. And since I've done theatre, it kind of comes with the territory a little bit, like improv and playing theatre games and stuff. So I had a little taste of it with that, but really just being on stage and not knowing what you're doing is really new to me."
Young, a sophomore multimedia major, is new to the troupe but not to improv itself.
"I went to a circus camp for five years, for five summers," Young said. "It was like a sleepaway camp, and I was on the improv team there. [The camp] was like performing arts, but it focused on unicycling and juggling and trapeze and stuff."
This was Young's first year auditioning, and she was surprised that she had gotten so far, but she really liked the experience nonetheless.
"I like being on stage, but I like being in the troupe and creating those friendships," Young said.
Henry Studebaker
Staff Writer