Hope Stewart, On and Off the Court
Ventura County native and junior outside hitter Hope Stewart is no newcomer to the sport of indoor volleyball. However, volleyball was not always her favorite sport. Stewart said that her mother was the one that pushed her to stick with the sport.
"I've been playing for quite a while, I started in the third grade, just like little beach tournaments, and then I first started playing club in junior high so I've been playing year round since then," Stewart said.
Although Stewart eats, sleeps and breathes volleyball, she also enjoys being outdoors, snacking on popcorn and watching Nicholas Sparks movies. Stewart, a business marketing major, has future plans to travel the world and hopefully work for a nonprofit company, such as Habitat for Humanity.
However, her devotion to volleyball is never far away. Before each match she listens to her favorite songs to get her into a mental state of readiness. Stewart also said that she has a lucky sports bra and necklace that are a part of her game day attire.
Stewart said the large amount of returning players and the support they give one another makes the chemistry on the court stronger. Stewart also recognizes this as one of the team's greatest strengths.
"We have a lot of returners so we are familiar with playing with each other. For newbies, it is just a matter of getting them in our groove," Stewart said.
Co-captain and senior middle blocker Sarah Pappas said in an email interview that she couldn't have asked for a more dedicated teammate and that Stewart always has a sense of positivity that shows at every match.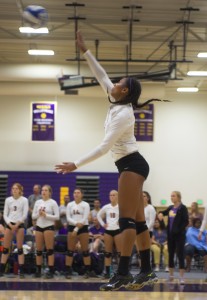 "Hope works really hard in the weight room which definitely transitions onto the court well. She has amazing hops and can hit the ball insanely hard. She is a calming and positive figure on the court and has a great work ethic," Pappas said in an email interview.
Head Coach Kellee Roesel said that Stewart's athleticism is one of her greatest strengths and she is a very dedicated and hardworking athlete. Roesel also said that Stewart has done remarkably well this season despite some tough injuries.
"She's really tough, she's battled a lot of injuries and you would never know it because she never complains, usually lies to me about it but I love her, I adore her and I think she is going to continue to do great things for us so I'm excited about the future with her," Roesel said.
Co-captain and senior libero Nicki Tetherow said that Stewart's energy on and off the court can brighten anyone's day.
"She can always make me laugh through the minimalist things she says or through the extensive thoughts that she has going on in her head," Tetherow said.
Tetherow said Stewart tends to be hard on herself but this is what makes her such a dedicated teammate.
"I always have to tell her you're fine, don't worry about it. But that's a good thing to have though because that means she always wants to get better and that's something that you can't ask people to do, they either have it or don't have it," Tetherow said.
Tetherow also said that Stewart's hard work definitely shows on the court and it is awesome to see that it has not gone unnoticed.
"I can't be any happier for her, just watching her grow as a player and as a person from her freshmen year to who she is now…seeing that transition, seeing her get court time and that's awesome because of all the hard work that she put in—off the court in spring and in the weight room—I'm just really happy for her and she's a good person to have on the court," Tetherow said.
Sam DiMaggio
Staff Writer