Helping Shelter Dogs Feel at Home
On Oct. 4 California Lutheran University students took part in making tug toys for dogs at local shelters or their very own dogs at home. The event aimed to teach people about the reality of a shelter dog's journey from cage to caring arms.
A local dog shelter named Shelter Hope Pet Shop was present on the Spine. They are located in Janss Marketplace on Moorpark Road.
This month's "6 Minutes of Service" tabling event was hosted by the Community Service Center in association with the shelter to spread the word about local organizations. This particular event involved the making and distribution of tug toys displaying the purple and gold of Cal Lutheran.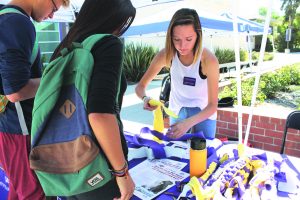 "I made sure I did my investigation before because I wanted to make sure that it was a nonprofit, volunteer-based," said CSC intern Ana Sofia Campos. "I wanted to see that their morals were in line with ours."
The main mission behind this nonprofit shelter is to aid the adoption of pets and shelter those who have not had the chance to become a part of a loving family. Their other ambitions are to help spread knowledge and awareness about the creatures they help.
While in search of families for these animals, the shelter managed to save over 100 dogs last year. The shelter also wishes to eradicate widespread puppy mills which supply to most major mall puppy stores, according to statistics on their website.
"Did I think I would be helping dogs like those Sarah McLachlan, ASPCA commercials?" said local volunteer Mike Hackett. "Of course not, but I am and it's the most change I've ever been a part of."
Hackett has been working with shelters for about four years now and he said he does not plan on stopping until he feels this problem is fully gone.
What is most upsetting to Hackett is the conditions some of these dogs are experiencing before stepping paw into places like Shelter Hope. Puppy mills are facilities that aim to produce as many puppies for purchase as possible. Hackett believes there is zero regard for the ethical conditions of breeding, birthing and care for dogs post birth.
"It's appalling, the kind of treatment these innocent creatures undergo. Hope [Shelter Hope Pet Shop] and others like it are doing good, doing what needs to be done. But it's just barely scratches the surface," Hackett said. "There are literally thousands of, not just dogs, animals that are in dire need."
One resident in Thousand Oaks has taken it upon herself to make sure she is doing her part by making herself an adoptive mother to a dog that was otherwise going to die.
"I took in Malikai to not only have a dog in my life, which is much better than any boyfriend I could have asked for," Said Kaitlyn Kendrick. "I wanted to bring a dog into a home that he would be loved and cherished as much as he loved and cherished me."
This unconditional love is what spurred Kendrick into action. This was not just on Malikai's part as this relationship is purely mutual, according to Kendrick. It was what allowed her to combat the ever-growing problem of homelessness amongst dogs.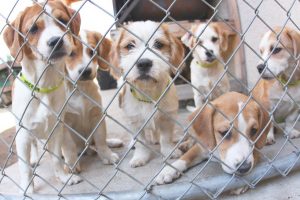 There are solutions to this   problem that go along with most other problems that affect animals of the Earth, one of them being education. Places like Shelter Hope are taking a step in the direction to gain knowledge and fight to help end animal exploitation and abuse.
Connor McKinney
Staff Writer