Foorever Campbell Fights Through Adversity
"I made a cut to the left. No one touched me, my ACL just popped. I fell, I tried to get up and I just fell back down. I knew it was bad," said California Lutheran University running back Foorever Campbell, who is playing with sophmore eligibility.
During summer football camp in 2014 Campbell was running a team drill, full offense vs. full defense. While making a cut at an attempt to score, his knee popped. This could have marked the end to Campbell's football career, but that was not an option for him. Instead, this 2016 football season is Campbell's first full season back as the Kingsmen's starting running back.
"You tear your ACL and you hear a lot of stories and they're finished after that. That's their sports career right there, but I was always raised [that] you can't just quit if something pops up. My ACL tore, I had to get back up," Campbell said.
Campbell's mother said in an email interview that in the hospital she feared he may not be able to play again. He stayed determined and wanted surgery as soon as possible so he could get back onto the field before the season started.
Campbell's journey of recovery was not an easy one. He was not just handed his starting position. He had surgery on his knee in Jan. 2015, then started rehab and worked day in and day out to earn his starting position.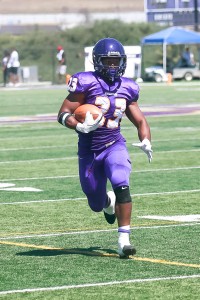 He said when he was home in the summer he trained almost every day, only taking a break on Sundays. Even on his rest days he would still go for a quick jog or do a workout in the pool. He came back for fall camp stronger and earned his starting position.
"He's earned every minute of playing time, just by his practice. He plays hard, he does everything with a sense of urgency. When he gets his opportunities to go, he just goes hard. I've always respected that about him. He plays as hard as anybody we've ever had," Head Coach Ben McEnroe said.
Once Campbell was cleared to play, he said he was ready. Campbell said last season McEnroe allowed him to get in one game against Pomona-Pitzer, one play. It was his first game after his ACL tear, but he took it as his opportunity to make something happen. Campbell got the ball and ran it 10 yards and scored a touchdown for the Kingsmen.
"His energy is great and he is always giving 100 percent. He's always trying to score a touchdown. Some guys just try to get a couple yards here and there which is good but he's always trying to make that big play. He works harder than almost anyone I know," said senior defensive back,and Campbell's roommate, Logan Sanders.
Campbell said his perseverance and work ethic comes from past experiences. His parents are his biggest motivation, especially his mother, who raised him on her own most of his childhood. He said he always takes into account what his mother has done for him in making sure he always had what he needed, no matter how tough situations were.
"I can't quit. Since she raised me to do so good, I have to get where I have to go. I do this mainly for her," Campbell said.
Campbell described this whole experience as a struggle but he never put his head down. He said the hardest part was staying in it mentally. Through self-dedication Campbell had to balance school, rehab and a social life.
Rather than looking at such a major injury with a negative mindset, Campbell overcame adversity and took it all in as a learning experience to come back stronger.
"This is just in me. I've always wanted to be one of the best at everything I do. Even if I'm not the best, I want to make sure I'm always doing it right, so I have to work hard to get to where I want to be," Campbell said.
Maryssa Rillo
Staff Writer