Condors Turned Kingsmen
The California Lutheran University men's soccer team has built a web of connections with Oxnard College. Through this connection they have added a group of nine transfer players to the roster this season.
According to Head Coach Dan Kuntz, you can track this connection all the way back to a single picture. It was a picture of assistant coaches Ivan Sanchez and Miguel Silva with a friend Raul Yepez, as young boys playing soccer together, but the amazing thing was they were wearing Cal Lutheran shirts.
These boys grew up in the Oxnard area, and then they continued playing together at Cal Lutheran. Sanchez and Silva now continue the Kingsmen pride as assistant coaches at Cal Lutheran, and Yepez now has a younger brother who is a current player here, sophomore defensive player Cristian Yepez.
According to Kuntz, he followed senior midfielder Andres Mendoza closely while he was playing at Oxnard College.
"I was following him and through following him I saw some of the other kids. Andres came in last year, and he was instrumental in talking to some of the other guys," Kuntz said.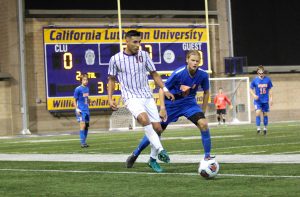 With help from the assistant coaches from Oxnard and communication with the first Oxnard transfers, a clear connection was opened between the Cal Lutheran and Oxnard College soccer programs. Little by little these players started transferring over from a highly successful Oxnard program, which has four consecutive Western State Conference Championships.
One of these players was standout junior goalkeeper Eduardo Garcia. He was awarded All-American, First Team All-League in Western Conference, National Player of the Year and Most Valuable Player of State Championship, according to the Cal Lutheran Athletics website.
The talent was there, but it was a bit of a rocky road trying to mold the team together at first.
"It was different coming from a different style of game, but we like to learn from it. So we adjusted, and we keep on hoping to improve that," Garcia said.
However, the team was able to bond over a home-cooked meal from the Oxnard transfers.
According to Kuntz, the boys invited the rest of the team over to enjoy a meal that they cooked themselves in attempt to bond the two large groups together.
"We started the season with high expectations. We brought in a lot of good players, not just from Oxnard. We just were not adjusting to the style well, and some of the games we lost at the beginning were because of our mistakes," Mendoza said.
According to Kuntz, the hardest part is on the field. There are differences of opinion, of style, and not only with each other but with the coaches as well. It is a partnership, he explained. There is a give and a take and that is how they made it work.
Kuntz explained how at first the transfers needed to adjust to the physical style of play. They needed to understand that a bit of physicality is necessary to let the rest of their game shine.
"Mixing both styles, the style that coach wants us to play and the style that we already know, is working," Mendoza said.
The Kingsmen have three games left of regular season play. They said they feel like they are hitting their stride in time to play out these last few games, and hopefully have a postseason run.
"We have to have a little bit of luck, and we have to do a good job together. They will show through what is left of their season. I have every confidence they will do that, whatever it is. They will still show not only the play, but how they have come together," Kuntz said. "I am hoping that inside, within themselves, as a group, as a team, they have discovered what it means to have something really special by overcoming difference. For me, that is what it is all about."
Makenna Pellerin
Staff Writer