Her Campus members strutted down the catwalk in College Fashion Week's annual Oct. show. College Fashion Week is going on its fifth year hosting the show, however this was the first show in Los Angeles Oct. 22.
According to the fashion show's website, the show was a way for guests to mingle, network and collect gifts from the various sponsors.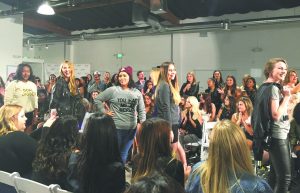 According to College Fashion Week's website, "College Fashion Week provides a platform for the nation's most fashion-obsessed collegiettes to come together in a fun, empowering, inclusive setting to celebrate their bodies and fashion as a form of self-expression."
For those unfamiliar with Her Campus, it's an online magazine to help women through their college experiences. According to the Her Campus website, the organization is the number one media brand for the empowered college woman.
Elaine Abarta junior and assistant publicity director of Her Campus at Californian Lutheran University, said the main goal of the event was to redefine what being a model is.
"There were girls of all shapes and sizes and it was really cool to see what would be called a plus size girl strutting her stuff," Abarta said.
Abarta also said that looks are not everything and the fashion show did a great job of highlighting this theme.
"I think it's important that everyone feels beautiful no matter what and it's not all about your looks," Abarta said.
President and Campus Correspondent Dani Kluss said that Her Campus at Cal Lutheran is currently one of the largest chapters in the nation with 104 members. Kluss said that out of 10 models walking the runway, seven were from Cal Lutheran. Around 40 members from Cal Lutheran's chapter attended the event.
"It was a great bonding experience for our girls…the cheering was overwhelming, you could just feel the love," Kluss said.
Kluss also said one of the perks of modeling was being able to showcase the clothes for up and coming fashion designers in the industry.
"[It was] a night to celebrate these up and coming designers while giving fashion obsessed college women a place to meet, mingle, network and celebrate their bodies," Kluss said.
Kluss said it was fun to be mistaken for a model, even if it was only for one night.
"It was really cool being in something like this because every place we went people were asking us, 'Oh you're a model, how often do you do this?' And we were like 'we don't,'" Kluss said.
Kluss also said the night was p hectic because they only had 10 minutes in between each show.
"We had to change and then check our outfits, we had to get our photo taken and then we had to get in line, walk and then do the finale right afterwards and then change again…it's insane and so much fun," Kluss said.
Senior Linden Gray-Reneberg said the fashion show consisted of four different categories: Study Chic, Festival, Rush and Girls Night Out.
Gray-Reneberg said the event was promoting real, everyday bodies. She said that part of what made the event so enjoyable was the large amount of people that attended, especially all the Cal Lutheran Her Campus members.
"I think a lot of the fun [from the show] came from the fact that there were so many CLU girls there, we were rooting on all of our friends that were in the fashion show," Gray-Reneberg said.
Gray-Reneberg said she would love for Her Campus to work with other clubs to broaden their audience and encourages anyone who is interested to check out the club next year. Kluss said students can visit the Her Campus website at http://www.hercampus.com/school/cal-lutheran.
If students are interested in joining the club, applications for spring semester are available at the end of winter break or they can email her at [email protected].
Sam DiMaggio
Staff Writer