Cal Lutheran Pride: Homecoming Traditions
Every year California Lutheran University hosts a Homecoming weekend with events such as the Monte Carlo dance, the homecoming football game and the carnival.
Cal Lutheran senior and Associated Students of California Lutheran University Government President Daniel Lacey said such traditions as Monte Carlo have been a part of Cal Lutheran life since 2011 and the carnival has been around for at least 10 years.
Lacey said ASCLUG Programs Board puts together every Homecoming event for the Cal Lutheran community.  Senior Representative of Programs Board and head of the Carnival Committee, Brittany DeValk said, Programs Board begins their planning at the end of the previous school year and works throughout the summer.
"It's my favorite weekend of the school year. Usually there's not much happening over the weekends on campus and this is the one weekend when everything and everyone comes to life," said junior Programs Board Representative Samantha Schindler in an email interview.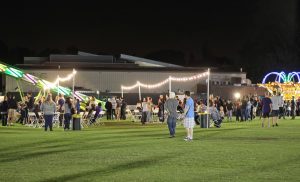 To begin Homecoming weekend, Cal Lutheran traditionally has Monte Carlo.
Kimi Mehl, Programs Board recorder, said Monte Carlo is a dance that's meant to "kick off" the weekend for Homecoming. It's a free event and is a place to dance, enjoy snacks and gamble.
"I love Monte Carlo. That's really fun because literally I just dance the night away," Mehl said.
This will be the sixth year Monte Carlo has been a part of Cal Lutheran's homecoming traditions. Lacey said Cal Lutheran used to have a more common Homecoming dance, but since the switch, Monte Carlo has been one of the most attended events on campus. Last year, 1,300 people attended.
The Monte Carlo dance also has a theme. Lacey said the  theme changes every year. They vary from "Great Gatsby," "Night in Paris," to this year's theme: "Alice in Wonderland."
The following day, Cal Lutheran's football team had their Homecoming game. Lacey said prior to the game, there is a spirit tent for people who are attending the game. They can pick up pom-poms, t-shirts, rally towels also and get their face painted.
"I enjoy helping out with the spirit tent. I always love to partake in getting people spirited and hyped for homecoming," Lacey said.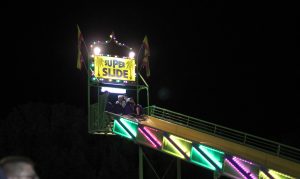 Mehl, who is also a member of the Cal Lutheran Dance Team, said the homecoming game generally has a larger audience than other games because of all the families and alumni that are on campus for Homecoming weekend.
The Cal Lutheran Dance Team has a halftime show and tries to get Kingsmen football players to participate in the dance with them.
"If we have enough boys and time we will usually have guys dance with us. We were lucky to get enough boys this year. It's just a funnier performance. It's a lot more relaxed than our usual games, but it makes it so much more fun because the guys make it fun," Mehl said.
The  final event of Cal Lutheran's Homecoming tradition is the Saturday night carnival. According to the Hub, Cal Lutheran's Student Event Calendar, the carnival includes "free rides, carnival games, prizes, live entertainment and food."
"The carnival is a way to not just host this great event, but also to integrate all the different cool aspects of what students do here on campus. It's a big concluding event for Homecoming weekend," Lacey said.
Lacey said the carnival is free to all. It is an event for students, family, faculty and alumni. Different groups are involved such as the Dance Team, DJs, different clubs, student bands and a variety of different booths.
"Homecoming [weekend] is a community gathering. It's bringing all the aspects of Cal Lutheran and  [everyone] who identifies with Cal Lutheran together. It's a great place to bring the energy back here and bring people back to campus, and get everyone excited," Lacey said.
Maryssa Rillo
Staff Writer