Kingsmen Roll Over Tigers on Senior Night
It was an emotional night at William Rolland Stadium as the senior football players of California Lutheran University played their last game on home turf. The Kingsmen sent their seniors out on a high note as they defeated the Occidental College Tigers 53-36.
Before kickoff, 12 seniors were honored for their hard work and dedication to the Cal Lutheran football program. Those seniors were Ivan Campos, Jesse Cerdas, Casey Cole, Matthew Kubly, Jordan Pierce, DeJon Rothschild, Logan Sanders, Isaac Seymour, Jared Smith, Nathaniel Thompson, Kaile Williams and Javier Zaragosa.
"It feels great to go out on a positive note," senior offensive lineman Smith said. "It felt good not just to win for the rest of the seniors, but it felt good to go out with a win for our fans."
In a game that featured a lot of offense from both sides, the Kingsmen got started early with a 62-yard touchdown run by junior running back Chris Beeson. On their next drive, junior quarterback Adam Friederichsen aired it out to junior wide receiver Wendell O'Brien after a double reverse for a 50-yard touchdown pass.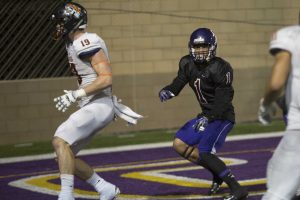 The offensive attack continued as Friederichsen found junior wide receiver Aaron Lacombe for a 50-yard touchdown pass. Before the end of the first quarter, Friederichsen also punched in a 1-yard touchdown run, but Occidental responded with two touchdowns of its own. Cal Lutheran  built a 32-12 lead by the end of the quarter after converting on every 2-point attempt.
The Tigers scored early in the second quarter as senior quarterback Bryan Scott connected with junior wide receiver Ian Bonde for a 5-yard touchdown pass. Friederichsen then threw for his third touchdown pass of the half as he found junior tight end Diego Hernandez in the end zone for a 16-yard touchdown. The Kingsmen headed into halftime with a 40-19 lead.
"I thought the energy tonight was exceptional," Head Coach Ben McEnroe said. "The guys were making plays in every phase of the game. I love the seniors and they've been through a lot. They really bought in the offseason and gave us a great effort. They've established a great culture for us."
Cal Lutheran continued its offensive dominance in the second half when Chris Beeson scampered for a 4-yard touchdown run. Occidental showed some life when they scored on back-to-back possessions. Scott targeted sophomore wide receiver Carlton O'Neal for a 5-yard touchdown pass. Scott then hooked up with senior wide receiver Cordell Harris for a 72-yard touchdown to cut the Kingsmen lead to 46-36.
The Kingsmen recovered early in the fourth quarter when Friederichsen capped off his impressive night with his fourth touchdown pass of the night when he fired the ball to junior wide receiver Josh Mooney from 12 yards out.
A senior stepped up to seal the game for the Kingsmen when cornerback Sanders made an impressive leaping interception at the Cal Lutheran 5-yard line. The Kingsmen were able to run out the clock and hold on for the 53-36 victory on senior night.
"I can't put this feeling into words," sophomore standing running back Foorever Campbell said. "It's four years of full dedication that was all built up for this last game. To get the win is a feeling that can't be explained. We wanted to end the season on a good note. It's just a good feeling."
Friederichsen finished 18-30 for 317 yards and four touchdowns. Beeson rushed for 161 yards on 16 carries and two touchdowns. O'Brien led the receiving corps with five catches for 157 yards and one touchdown.
Cal Lutheran improved to 4-4 overall and Occidental fell to 1-7. The Kingsmen will play their next game Nov. 12 at the University of Redlands at 1 p.m.
Jeff Rebello
Staff Writer