Club India Puts on Diwali Festival of Lights
California Lutheran University's Diwali Festival of Lights Nov. 1 featured Indian food, Henna tattoos, a photo booth with traditional Indian clothing, a virtual tour of the Taj Mahal and Bollywood music played as lights hung over over Kingsmen Park.
The festival was presented by Club India, an on-campus community for Indian students that promotes awareness of their culture, said Poojan Shah, who will soon be vice president of the club.
"A lot of people here in America know what Diwali is and they're very much aware about Indian food and the cuisine from all throughout the scale and so this is a good platform to introduce more to our culture," Shah said.
According to Encyclopedia Brittanica, Diwali is a major celebration honored by both Sikhs and Hindus. Sikhs celebrate the release of Guru Hargobind from prison, while Hindus light small oil lamps in honor of different gods and goddesses which vary depending on one's region.
This year, the actual holiday of Diwali took place on Oct. 30, said Chintan Rajani, treasurer of Club India and coordinator of the festival.
"Every year students do this kind of event, but we are doing it on a larger scale," Rajani said.
Club India was formed last year, and the purpose of the Diwali Festival of Lights was to establish the club and spread the Indian culture across campus, Rajani said.
Around 5:15 p.m., attendees began eating the food, including samosa, chana chaat, rooh afza to drink and gulab jamun for dessert. Later, students began participating in the activities.
Shah said that samosa, a fried pastry filled with meet or vegetables, is "a national snack because everyone eats it throughout the country." It was served alongside chana chaat, a snack made with white chickpeas.
Shah said rooh afza is a traditional rose drink and gulab jamun is a type of donut.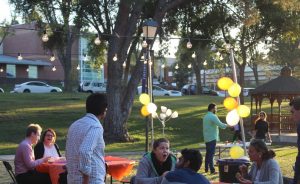 Club members were helping at a variety of stations, including doing henna, a form of tattooing with a substance that temporarily dies the skin.
They also took photos at a photo booth where people could put on clothing such as scarves, saris and bindis, the bright-colored dots Hindu women wear upon their foreheads.
Rajani said Interfaith Allies helped the club organize the festival.
Previously on Oct. 25, Interfaith Allies hosted a Diwali Dinner in the Lundring Events Center that included an array of Indian cuisine and a question and answer session regarding religious traditions from students of different faiths. Club India attended this event as a guest, Rajani said.
Michelle Lopez and Alyssa Abano, two freshmen at Cal Lutheran, attended the Diwali Dinner prior to the Diwali Festival of Lights.
"We learned a little bit about what Diwali was. I've always been interested in different cultures and their traditions," Lopez said.
After attending the dinner, Lopez and Abano said they loved the food, learned more about the holiday and wanted to attend the festival once Abano noticed the advertisement on Cal Lutheran's HUB Calendar.
Nighat Shah, a temporary adviser for Club India and administrative assistant for Multicultural Programs, International Student Services and Campus Diversity Initiative, said Club India received funding and support from Multicultural Programs for the festival.
Shah said the event was Club India's initial idea, and she helped them coordinate it along the way, filling in for their former adviser on sabbatical, Rahuldeep Singh Gill, associate professor of religion.
Shah said to keep the Bollywood music they were playing at the event to encourage a fun atmosphere. She said she also told the club officers that students love henna, and that will get students to come.
Almost every person attending took part in the henna tattooing, done on either side of the hand by two club members who came dressed in brightly colored, traditional Indian attire. 
Rajani said Club India is more of an informal community. He said all of the members are graduate students, and meet almost every other day to catch up with each other.
Shah said others are "most welcome" to join them.
Club India also has more members this year who are from India, Rajani said.
They are is planning a Holi festival of colors for March, which was done two years ago on campus, Rajani said.
They distributed a sign-up sheet at the festival for people to receive news about upcoming events.
Dakota Allen
Staff Writer