Regals Drop Semi-final Match Against CMS
The Regals traveled to Claremont, California to compete against Claremont-Mudd-Scripps in the Southern California Intercollegiate Athletic Conference semi-final game Nov. 2 in a rematch of last year's semi-final, which the Regals won. This time, however, the Regals fell just short, losing 3-2 in the first overtime period.
The action started early as the Regals jumped out to a 1-0 lead courtesy of junior midfielder Nina Winsick. The Regals played a long throw into the box and Winsick was able to get on the end of it.
"It was great to get a goal early especially against CMS because we knew that scoring opportunities were going to be rare in such a competitive matchup," Winsick said.
As the first half carried on, both teams sat back to defend but just as halftime approached the Athenas were able to score and take a 2-1 lead into the half.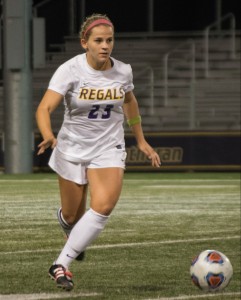 Midway through the second half, sophomore midfielder Sarah Tadeusiak was able to tie it up at 2-2.
"It was crazy. I didn't even realize it happened when it did… all my teammates just came around me and it was just a crazy feeling," Tadeusiak said.
Both teams had a number of chances as the half went on, but neither were able to convert. This meant the game was headed into overtime.
"We were pretty confident. We've gone into overtime quite a bit, so it wasn't a new feeling," Tadeusiak said.
Shortly after the whistle blew to begin the overtime period, the Athenas put one in the back of the net. The golden goal meant the game was over with a score of 3-2, and Claremont was on their way to the SCIAC final Nov. 5 to play No. 4 seeded Chapman.
"What I'll remember most is how from spring of last year to the new players this year we came together as a team and bought into the culture that we wanted" Head Coach Frank Marino said.
The Regals will be returning nine starters and hope to add to the 12 wins they had this year, Marino said.
"We are returning so many players… who understand what it is to be a Regals soccer player and to be a part of our program and that excites me," Marino said.
The Regals finished No. 3 with a record of 12-5-4 overall and 6-4-4 in SCIAC.
Gabriel Naudin
Staff Writer