The Abundant Table: Eat Locally
The Abundant Table is an organization that works with California Lutheran University to provide a box of fresh, local and organic produce weekly or biweekly.
To get access to this program, all one needs to do is sign up for the Community Supported Agriculture (CSA) program on The Abundant Table's website. One will then receive a wide variety of seasonal fruits and vegetables at a cost of $40 for a large box of 15-20 produce items, or $25 for a regular box of seven to 10 produce items.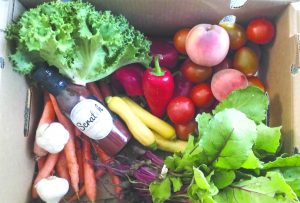 The organization began in 2004 as a campus ministry at California State University Channel Islands, and then it spread to encompass a forward-thinking ministry in the Episcopal and Lutheran faiths, according to The Abundant Table's official website.
After that, the organization became devoted to transforming the food system to bring about health and wellness for many people, and to encourage a sensible stewardship and connection to the earth.
According to the "About Us" section of their website, "We create greater access to sustainably grown foods for the benefit of all Ventura County residents, produced from a consciousness of ecological, social and spiritual well-being. Our mission seeks to change lives and systems by creating sustainable relationships to the land and local community."
The Abundant Table connected with Cal Lutheran through Associate Professor of Religion and SEEd Garden member Sam Thomas.
"I joined [The Abundant Table's] board of directors in 2010, and through my involvement, the Abundant Table has partnered with CLU in a variety of ways over the years," Thomas said in an email interview.
Thomas explained how Samuelson Chapel is a drop-off site for the produce boxes. The Abundant Table's staff members frequently speak on campus, as well as host farm-box cooking programs for students that live in the dorms, so they are able to have access to the produce as well.
Thomas isn't the only member of The Abundant Table's board of directors. Associate Professor of Religion Lisa Dahill will be starting on the board this November, after being a subscriber to the CSA program.
Through the CSA program supporters can get access to different sizes of boxes of produce, depending on the size of one's family or food situation.
"I get biweekly regular, because I'm just one person, but if you were a big family, you might want a large box every week. And it's not just more volume, but more varieties in the large boxes," Dahill said.
Yvonne Wilber, who is head of Collection Development and Outreach in the Pearson Library, is one person who receives the CSA farm box, which has a wide variety of fruits and vegetables to eat with her family.
"So, when I started getting the box, it was late winter, and there was a lot of greens. And my family and I ate more greens than we thought was humanely possible," Wilber said. "And so, that was a very healthy time for us, to be eating that amount of greens."
Wilber said she likes The Abundant Table's philosophy, which coincided quite well with her vegetarian family.
"We're vegetarians in our house, and a lot of that does have to do with food justice, because of the amount of grain and such that goes toward feeding warm-blooded animals. That produce could be used, or the resources that are used to produce that, can be used to produce food for human beings," Wilber said. "So that's important for us."
The Abundant Table drops off produce boxes every Thursday at Samuelson Chapel. Cal Lutheran students and local residents are encouraged to take advantage of the opportunity to support local farming and lead a healthy lifestyle.
Henry Studebaker
Staff Writer