Mr. Burns, a Post-Electric Play: Coming Soon
Opening night for the first main stage production of the academic year for California Lutheran University's theatre department will be Nov. 10. The post-apocalyptic dark comedy called "Mr. Burns, a Post-Electric Play," will run in the Blackbox Studio Theatre through Nov. 20.
Directed by Michael J. Arndt, a theatre professor at Cal Lutheran, the play tells a story of life after electricity burns out and how people and mythology evolve, according to callutheran.edu.
Senior Kyle Poppert, a cast member of the play, said that the plot of "Mr. Burns, a Post-Electric Play" is very complicated and that each of the three acts take place years apart and have a completely different tone.
"It's basically the ' The Walking Dead' meets 'The Simpsons' meets 'Glee' and for that reason alone people should just come see it," Poppert said.
The play features a group of people trying to remember an episode of 'The Simpsons' around a campfire and shows the progression of those people and how they passed down this story through the years without any electricity, Poppert said.
"Basically it tells the story of how we as a society evolve over time, and how theatre evolves," senior and lead role Kaitlin Ruby said.
The complicated plot involves time jumps, comedy, musical chants, random pop songs and crazy costumes and sets, Poppert said.
The Cal Lutheran theatre department has been preparing months in advance for their opening night, Poppert said.
"We were cast in really early September, pretty much the first two weeks of school we had auditions but the planning has been going on for months prior to the semester," Poppert said.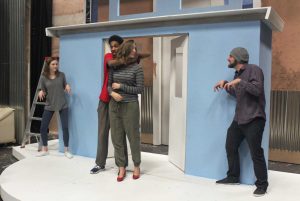 One of the ways the department prepared for this play was taking a cast-only camping trip to El Camino Pines, Ruby said. The director wanted the cast to experience first hand what it would be like to be without electronic devices and in the wilderness because that is the nature and setting of the play, Ruby said.
"We did this exercise where we were just in the complete dark and we would have to find our way to a certain place," Ruby said. "You really felt what these characters might have felt, without all these electronics that they are so used to having."
The cast participated in various exercises and even ran lines while camping to really experience the post-apocalyptic setting, Ruby said.
"It was a really cool and immersive experience," Ruby said.
Poppert said that they ran lines in a nearby mess hall to begin preparing for the play.
The members of the cast said that they were very excited to see how all their hard work will pay off. They have been rehearsing four days a week since the start of the semester, Poppert said. The week prior to opening is referred to as "hell week" because the cast is in the theatre every single day for sometimes 12 hours a day, Popperet said.
Sophomore and cast member Libby Baumgartner said the progression of the play is told in an interesting and fun way.
"I like all the weird stuff we get to do because we get to wear masks, and it's a lot of fun movements and a lot of singing," Baumgartner said.
With three completely different acts that don't take place in the same decade, Baumgartner said it is difficult to categorize "Mr. Burns, a Post-Electric Play."
"It's very dark but it's also very funny, and it's not a musical but there is music in it," Baumgartner said. "Overall just putting this weird thing together has really been exciting."
General admission for "Mr. Burns, a Post-Electric Play" is $10 and is free with a Cal Lutheran ID card, but students must reserve seats online. Tickets can be bought ahead of time at callutheran.edu under the Arts and Events section.