Line Dancing Under The Moonlight
Cal Lutheran comes together for a night of cowboy boots, flannels and country music.
On Nov. 4 the night was one hootenanny of a hoedown here at California Lutheran University as the Associated Students at California Lutheran University Government hosted the Moonlight Round Up. The event, which took place from 7 to 10 p.m., filled Peppergrove Park with flannels, cowboy hats and the boots to match.
Peppergrove Park was decorated with lights strung through the trees and hay stacks all around.
The Moonlight Round Up offered students the opportunity to socialize and have fun with a "country festive feel," said ASCLUG representative Tiersa Jones.
The Moonlight Round Up featured catering by Billy D'z BBQ, two line dancing instructors and up-and-coming country artist Hannah Rose who performed live with her band.
This was not the event the committee was originally going to host. The committee was set on the idea of bringing back a past event, Howl at the Moon, but after some budget constraints and wanting to do something new, the committee landed on the idea of a good old fashioned roundup.
"We thought with a new theme we could incorporate a lot more such as the Billy Dz BBQ, line dancing instructors, country decorations, photo booth and raffle to make it all flow together, and give students the opportunity to dress in country attire for a western night," Jones said.
Inspired by the previous Howl at the Moon event, offering live music was something the committee wanted to incorporate. The musical performance was key to planning this event, and this is where local country artist Hannah Rose came in.
Hannah Rose was reached out to via email by a high school friend who currently attends Cal Lutheran.
"She recommended [the event] to me because she knows I sing country music," Rose said.
Rose grew up in Santa Barbara and signed with Dream Records at 16 years old. Originally a Christian artist, Rose made the move to country last July. She performed two separate sets Friday night with a set list that mixed original songs and cover songs.
"I never performed at a college but I've always loved the college age in shows and stuff because they're so energetic and fun so I was like super down because of the age group that would be there," Rose said.
With Rose singing in the background Cal Lutheran students took to the hay-covered dance floor. The dancing seemed to be infectious because once one person started dancing it was not long until the floor was full of dancing people.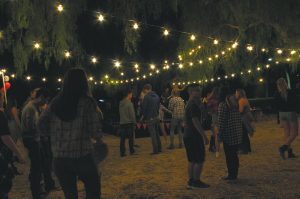 In between Rose's two sets, two dance instructors from Borderline Bar and Grill in Thousand Oaks came to teach students how to line dance.
Students gathered in the front of the stage to learn a step-by-step break down of a basic country line dance.
Sticking to the country theme, the night also featured food by Billy D'z Backyard BBQ, another local commodity. The restaurant offered buffet-style country cooking which was free for students who attended the event on a first come first serve basis.
Toward the end of the night two prizes, a polaroid camera and movie passes with candy, were raffled off to the students in attendance.
The students seemed to enjoy the Moonlight Round Up.
"I'm loving it. The line dancing is my favorite part, I came for that. The food was really good and the cornbread is a winner," said junior Lindsey Wolf, a student who attended the event. "Yeah I would [come again]. I really like the country theme."
Haley Townes
Staff Writer