Cal Lutheran Finishes Out Cross Country 2016 Season
November 15, 2016|7 Views
California Lutheran University's  cross country team took a flight to Salem, Oregon for their last race of the season, the West Regionals. The team brought six men and six women to compete in this race. The runners were chosen based upon previous times. 
Although traveling can be difficult, some of the team was looking forward to the positive aspects that come with traveling.
"I'm super excited about that and just to be in a new place and to see a different scenery…We'll be racing against a lot of really fast girls so that will help. I think it's super exciting we're all traveling together because it will bring the team closer together," senior Sarah Parsons said.
The team arrived to Oregon two days early to adjust to and analyze the environment.
"We will be previewing the course on Friday and will have a team meeting after running the course to discuss the best ways to race the course," Assistant Cross Country Coach Brett Halvaks said in an email interview.
This time allowed the team to have a full day of rest before the race. They were able to get a feel for the cooler climate and temperature they were about to run in.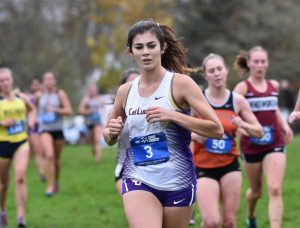 Freshman Erin MacNeil was the first Regal to finish with a time of 25:48.5 and was followed closely by Parsons with a time of 25:57.5. Freshman Rachel Ereso ran 27:25.8 and finished third out of the Regals. The first finisher of the women's 6k was Maya Weigel from Pomona-Pitzer with a time of 21:33.8. Overall, the Regals finished 17th ahead of Pacific Lutheran and Mills College.
In the men's 8k race junior Timmy Kahovec finished first for the Kingsmen at 27:54.2 trailed by senior Alex Johnston who completed the course at 28:45.8. Junior Christian Rider earned the third spot for the Violet and Gold with a 29:12.8 time. The fastest runner for this course was Brad Hodkinson from Pacific Lutheran with a time of 25:40.04 which was seven seconds faster than his closest competitor.
"Being a small D3 team, we're very close as teammates. Since none of us are here on scholarships for running, we're all here because of our passion for running," Rider said. 
Parsons said traveling brings people closer together and spending 24 hours together for three days was a lot of time for the team to grow closer.
"A goal for me is to help the team grow closer together on this trip and help each of them realize that this is a big deal and to carry that on into further seasons…to show and be a leader so they can be a leader when I leave," Parsons said.
As a senior and a captain, Parsons has devoted years to the program and wants to see it continue to grow after she graduates.
"The team has made great improvements from the beginning of the season and we have grown a lot closer as a team. We trained really hard through the first two races of the season so once we started to rest some before races our times started to drop," Halvaks said in an email interview.
Cal Lutheran looks forward to its next season and wants to finish higher in the West Regional rankings, Halvaks said.
Anissa Frajio
Staff Writer