The holidays started a little early this year as California Lutheran University students participated in Morning Glory's event, Holiday Cards for Hospitalized Kids.  For those who are unfamiliar with Morning Glory, it is a literary magazine ran through the English Department where Cal Lutheran students can submit poems, short essays, artwork and music to be published in the annual edition of the magazine.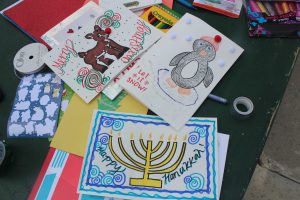 Editor and senior Kellie Warren said she wanted to find a service project that showcased the artistic side of Morning Glory.
"I was trying to find something that we could do that would be able to involve a lot of students outside of our club. I came across this [Holiday Cards for Hospitalized Kids] and thought it was perfect because we have a lot of writers. . . and it's creative because you get to decorate the cards," Warren said.
Warren and other club members provided holiday card templates to write a quick message inside. Students were able to create their own cards too, if they wished. Warren said her personal goal was to branch out and create more than a generic holiday card.
"I would like to make it really diverse. I want people of all different religions and backgrounds to come and make cards because there are kids of all those backgrounds who want cards," Warren said.
Warren said that once all the cards are collected the organization, Holiday Cards for Hospitalized Kids, will send and distribute the cards to hospitals all over the country.
Sophomore and club member Lauren Rezak said she wants to see the club exceed their goal of 70 cards.
"Even though our goal is to make 70 [cards] I think as many as possible would be best," Rezak said.
Rezak said she liked that the club was able to find a charity that was fitting to the club's artistic nature.
Sophomore and intern for Morning Glory Michelle Handal is excited to showcase her artistic talents during her first year as a member of the magazine's staff. Handal said that she is excited to give back to the children in the hospital and hopes to spread some holiday cheer.
"[The goal is] just to make as many cards as we can to give to the children a little bit of joy and happiness from us to them," Handal said.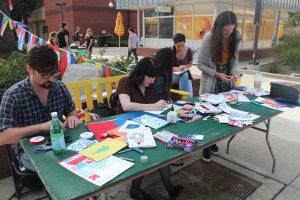 Senior and two-year member Graham Hancock said he was shocked by how many Cal Lutheran students participated in the event.
"I was pretty surprised at how many people came by and were excited to make cards for the kids," Hancock said.
Warren said that students who were unable to make the event can still bring their handmade cards to the English Department assistant desk until the end of the week.
Sam DiMaggio
Staff Writer