Cal Lutheran Dance Team
Without the help of a coach, the 17 members of California Lutheran University's Dance Team collaborate together to form a student-run organization where they perform at the university's football games, basketball games and showcases, as well as compete against other nationally-ranked university dance teams.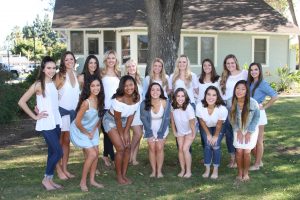 Senior and team captain Haylee Horney, who has been dancing for 17 years, said the team has been around for 12 years. The women do everything on their own, from self-advertisement, choreography, contacting coaches to set up times they can dance, figuring out practice times, to signing up for a spot to compete in the U.S.A Nationals in Anaheim.
Now that football season has come to an end, the women are getting ready for their showcase Dec. 2 at 7 p.m. in the Preus-Brandt Forum.
Horney said the showcase consists of 23 different dances. The dances include solos, duos and group dances of different types. There will be contemporary, tap, jazz, lyrical and hip-hop.
"It's different from the dances we do at games, it's more who we are. It shows our personality," said senior Dance Team member Brianna Davidson.
After the showcase and as the semester comes to an end, the women immediately start practicing to compete in the U.S.A Nationals in April. Davidson said the team begins preparing to compete the day before classes start for the spring semester.
Horney said the women consistently practice three days a week for three to four hours per day.
"I wouldn't say we haven't started already getting ready for competition because we are always preparing," said sophomore Dance Team member K'yanna Wesley.
Wesley said beyond the team's practice schedule the women put in a minimum of two days a week in the gym to keep their bodies in shape and to keep conditioned.
Horney said competition is the only time when the women do not independently choreograph. The women will hire a choreographer that works within their budget and he/she will come in January to teach the team their dance performance.
Cal Lutheran's Dance Team will be dancing a hip-hop piece in this year's competition. The women will only get two days with the choreographer for four hours each day and then up until the competition the ladies will be on their own to practice their routine, Horney said.
Horney said that universities such as San Diego State, Northern Arizona, Oregon State, Sonoma State and Chapman all compete in Nationals. The universities compete with each other based on the division their school is ranked.
Wesley said the team receives two chances to compete. The first time they compete the judges critique them and then the ladies go and make adjustments based on the judges' critiques. The following day all the universities come with a clean start and compete in front of an audience.
Last year the Cal Lutheran Dance team came in close second to Chapman, but are coming back this year to win that first place.
"We were right behind Chapman last year, but this year we are implementing new technique. We have new girls on the team, so there's more diversity and style. We have new additions that we added to the team, our formations are better and we've been working really hard on expressions. Dancing tells a story and we've been working really hard on that," Wesley said.
More information on the Cal Lutheran Dance Team can be found through their social media. They have a Facebook: (https://www.facebook.com/CLUDanceTeam), Instagram: @cludanceteam, Twitter: @cludanceteam and videos can be watched on the team's Youtube channel at CLU Dance Team.
Maryssa Rillo
Staff Writer