CLU's Coach Rider Retires After 22 Years
After winning the first game of the Kingsmens' 2016-17 basketball season Tuesday, Nov. 8 against News Release, California Lutheran University's winningest men's basketball Head Coach Rich Rider made the sudden announcement that he is retiring and ending his 22-year career at Cal Lutheran.
Rider said he told the Kingsmen that he would no longer be coaching due to personal family matters that he needed to take care of right away.
"It was very surprising, it's not very often you beat a team by almost 20 points and then all of a sudden your coach retires," said senior center Reagan Chapman, who has played for Rider all four years at Cal Lutheran. "Someone you've gotten to know of so well, it was very shocking. We didn't have any idea."
The title of head coach for the Kingsmen was passed onto Assistant Coach Geoff Dains who  coached with Rider for 20 years.
Dains said Rider told him over lunch the Monday before their game. Dains was very surprised about this move Rider made.
"We go to lunch a couple times a week. I thought it was just a regular lunch. I had no idea, I was speechless," Dains said.
Rider said his decision to retire was not an easy one and it was a long thought process before he finally went through with it.
"It was a tough decision, but it was the right one," Rider said.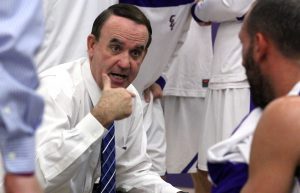 According to the Cal Lutheran sports website, Rider is the winningest men's basketball coach in Cal Lutheran's history, with 345 wins and three Southern California International Athletic Conference championships.
Senior shooting guard Sam Cirillo said what made Rider such a great coach was that he didn't make the game too complex.
"Rider always had this quote, 'to simplify your life,' and that translated onto the basketball court. He always urged people to make the easy play and that would benefit the team," Cirillo said. "If you got five talented guys on the court and they all make the simple play, you make each other better as a team."
Though Rider holds an amazing record for the Cal Lutheran men's basketball program, his players will remember him as more than just a coach.
"He's someone who has a lot of wisdom just about life and just someone who really helped us grow and make that transition from a young high school kid to a college-aged man. He set that foundation for us to really grow up," Chapman said.
Rider said he's going to miss the camaraderie he had with his staff and his players, especially because he's been with them for so long.
"Being with 18, 19, 20 and 21-year-old kids keeps you young and keeps you energized. I'm going to miss that," Rider said.
Cirillo and Chapman both said their most memorable experience with Rider was their basketball trip to Costa Rica in 2014. During their trip they went on a zip lining tour, which involved an hour-and-a-half hike up a mountain, and Rider hiked with the Kingsmen all the way up and enjoyed the experience with his team. 
"It was pretty cool to see Rider, who's a grandpa and has tons of grandkids, just trekking along with us just having the time of his life and zip lining right along side us. He always made our experiences memorable," Chapman said.
Because the coaching staff has been together for so long, the loss of the team's head coach during the beginning of a season did not leave a negative impact on the team's playing ability.
Dains has kept the practices pretty much the same and has made the transition process an easy one, Cirillo said.
"It's pretty much going to be the same. A little bit of differences, but it's the same philosophy. I plan to make it a seamless transition," Dains said.
The men have bounced back from the announcement and are currently 4-0 in their season.
Chapman said that Dains is a great coach and hopes he is in the conversation to be the team's permanent head coach.
The Kingsmen will continue to move forward with their season and will host UC Santa Cruz in the Gilbert Arena Dec. 11 at 3 p.m.
Maryssa Rillo
Staff Writer