Height Doesn't Measure Heart
December 6, 2016|10 Views
Standing at only 5 feet 8 inches tall, fourth-year wide receiver of the Los Angeles Rams Tavon Austin was an unlikely success in the National Football League. Despite being one of the smallest players on the field for the entirety of his career, Austin says that he was born to play the game he loves.
"To be honest this is my God-given talent," Austin said. "I'm one of the smallest guys on the field, but I have one of the biggest hearts. I definitely believe I was meant to play football."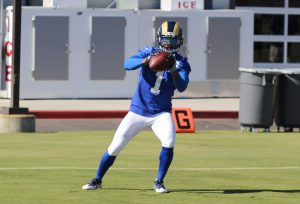 After stunning NFL scouts during his collegiate career at West Virginia University where he was a two-time All-American, he was drafted eighth overall in the 2013 NFL draft.
According to The Baltimore Sun, his rookie contract with the Rams was worth $12.751 million.
Austin took the league by storm as an offensive threat during his first four years in the league. This included his best statistical season in 2015, when he posted career-high numbers in receptions (52), receiving yards (473) and receiving touchdowns (5), according to NFL.com.
He also solidified himself as one of the league's top punt returners in 2014 when he posted the third most punt return yards in the league.
"It's a big difference [in the NFL]. Number one you've got to be more disciplined, and you're playing against much better players. The transition is hard, it's a big difference when you're transferring from college to the league," Austin said.
His breakout season in 2015 earned him a four-year $42 million extension with the Rams, according to NFL.com, extending his four-year contract from 2013. This keeps Austin in Los Angeles through the 2021 season.
The Rams utilize his blazing speed in many ways as a receiver, ball carrier and punt returner. This forces opposing defenses to account for Austin at all times due to his versatility.
"We spend quite a bit of time trying to find ways to get the ball into his hands," Head Coach Jeff Fisher said. "I joke around all the time, he has two speeds: one is fast and one is sleep. When he's out here, he's fast."
The Baltimore native usually lines up in the slot because his height prevents him from running long routes down the field against taller defensive backs. He uses his quickness to find windows in the middle of the field where his quarterback can target him. Austin also catches short passes near the line of scrimmage where he can make plays with his feet.
The Rams shifted their franchise from St. Louis to Los Angeles before the 2016 season. This forced a change of pace for Austin and fellow players.
Los Angeles had been without an NFL team since 1995 when both the Raiders and the Rams relocated.
Austin said the fans in St. Louis were beginning to lose faith in their team with their losing records, so it was nice to return to Los Angeles where fans were ready to have a team back.
There are still many changes ahead for the franchise's future in Los Angeles. The team will move into its new stadium in Inglewood, California when it is completed in 2019. The Rams are currently practicing on the campus of California Lutheran University, but it is only a temporary location until a permanent facility is determined.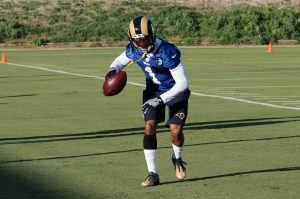 With the Rams at just 4-7 this season, Austin still finds a way to keep his goals steady after signing his extension and moving to Los Angeles.
"My ultimate goal is to get to the pro bowl before I'm done, but I just want to do anything to win. I'm not really a 'rah rah' person as far as touchdowns and all that. But for the most part, I just want to win games," Austin said.
Austin is not new to uphill battles, such as learning to accept his height and using it to his advantage on the field. He also dealt with adverse conditions coming from one of the most crime-ridden cities in the United States: Baltimore, Maryland.
According to Forbes.com, Baltimore ranks in the top 15 U.S. cities for violent crime.
"He's overcome a lot of stuff as players do early in their career. Where he came from in West Baltimore, he faced some unfortunate circumstances. But he's really settled down," Fisher said. "He just wants to win football games. If he has no catches and no yards, as long as we win, he's fine, so he becomes that ultimate team player."
Makenna Pellerin
and
Jeff Rebello
Staff Writer