Dance Showcase Dazzles Audience
The California Lutheran University Dance Team had their second annual dance showcase Dec 2. The team performed in the Preus-Brandt Forum and people filled up most of the 200 seats available.
The team consists of 16 girls who had to go through an audition process last school year to make the team. The showcase began at 7 p.m. and consisted of 23 dances which were a mixture of solos, duets and group dances. The dances ranged from contemporary, jazz, lyrical, tap and hip-hop.
"We've been preparing for a little less than a month. We did the show last year so we knew we wanted to do it again," said Elizabeth Gentile, a sophomore member of the Dance Team. 
The members were able to choreograph their dances and make the song choices in preparation for the show. But, they had to simultaneously juggle show preparation with performing at football games. This is why they started preparing early and worked on their dances on their own time.
The team opened with a group performance of "Mein Herr," which is a German song from Cabaret. This dance was choreographed by the Regals themselves and it had never been performed before. Their costumes were mostly black complemented with red items that each dancer got to choose. They wore red boas, gloves and scarves which made the team look unified while allowing creativity.
"The costumes were on point.  I really enjoyed seeing all the different styles," said Tyler Gross, a Cal Lutheran who attended the showcase.
Team bonding plays a major role in performances and the girls let it impact all aspects of the performances, from the song choices to the choreography. The strong relationships have a positive impact on their performances.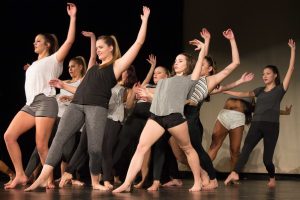 "So if we have good energy off the stage we can feel each other better on stage and know what's going on. While we're performing if everyone has really good energy, then we play off each other and give more and more energy then it has a bigger impact on the audience and you can really see it," said sophomore Dance Team member Nicole Aguilera.
In the first half of the show, Aguilera performed a solo to "Goodbye My Lover" after a trio performance. The showcase had a mixture of high-tempo songs along with slower emotional ballads, and Aguilera's was the latter.
"When you're dancing, a lot of times you're given a story and you play that character on stage. So if it's a sad piece, like my solo about this couple who split up. She was the love of his life and she left him so now I have to portray that. If my other half left me I would be so upset, so in my solo I have to channel that and show my emotions through my movement," Aguilera said.
The team closed with a group dance to "Why You Always Hatin'" which Gross said, was a favorite. This number was choreographed by sophomores Nadine Abukhzam and Gentile, which was one of Gentile's favorite moments of the show.
"I  like choreographing because it's like you're an artist with movement," Gentile said.
The dancers spent countless hours together in the dance studio in order to make sure the showcase went smoothly. But they were all doing what they love so the commitment paid off.
"We went through so many hours of practicing and cleaning the dances when we finally did it all and it's done. All the effort we put in is worth it," Gentile said.
The dancers are looking forward to their upcoming competition season and are already planning for another showcase next year.
Annisa Fraijo
Staff Writer