CLU's Annual Winter Wonderland
Califronia Lutheran University's Programs Board, a branch of the Associated Students of California Lutheran University Government, put on a snow-themed event called "Let it Snow" that offered students games, hot cocoa and their very own ornament.
Programs Board teamed up with the Cal Lutheran chapter of HerCampus in order to bring this celebration of snowy holidays by filling Kingsmen Park with activities.
"Let it Snow" has been an event for years on Cal Lutheran's campus and is a welcome part of the end of the year stress.
"To my knowledge, this event has been put on by the ASCLU Programs Board much prior than when I originally joined my freshman year," Programs Board Director Andres Elvira said in an email interview. "This tradition stems back far beyond 2012. It continues to be a great excursion for students looking to get away from the finals-related anxiety."
Such holiday-themed activities included a table devoted to decorating sugar cookies while washing it all down with the hot cocoa station replete with marshmallows and whipped cream.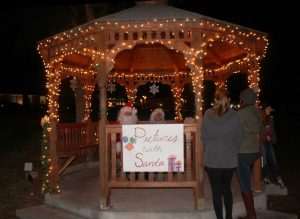 "Every year, students look forward to playing with the [on-average] 30 tons of snow. Sleds are purchased for students to go down the slides or participate in a snowball fight with their friends," Elvira said in an email interview.
Along with this mountain of snow, students could also test out their singing voices with a session of karaoke and vote for their Mr. Kingsmen representative.
"Let it Snow" is just a fun event that allows all students to come out and do fun cold weather activities, it's really just a lot of fun," freshman Tori Miller said.
Miller has been a part of HerCampus since she arrived here at Cal Lutheran and values its welcoming atmosphere and contributions to campus, life like its presence at "Let It Snow."
Set up next to the gazebo were tables that had decorations for students to adorn their ornaments. From "googly" eyes to glitter of all shades and colors, it allowed students to truly customize.
In keeping with the theme of "Let it Snow," games were set up to help de-stress and warm up.
In the gazebo, students could meet and converse with Mr. and Mrs. Claus and remember the moment with a picture.
Finals are a major reason why this event attracts so many students.
"It's nice to come outside with your rarely-used jackets and get some of the classics like cocoa and cookies before we start finals. I've been to past ones and went in the snow and ate cookies because that's awesome," senior Doug Lombardi said.
Connor McKinney
Staff Writer