"Love and Information" Theatrical Stages of Grief
The California Lutheran University Theatre Arts Department bursts onto the stage with a spring production that is "different than anything else we've done," said senior Cecilia Lindgren said. "Love and Information", directed by alumni Natasha Buran, will debut with more than 80 characters spanning seven acts.
"We are all going on this journey together starting at shock and making our way towards acceptance," Buran said.
All seven acts explore the stages of grief: shock, denial, bargaining, guilt, anger, depression and acceptance. Throughout the exploration of grief, characters delve into their grief stage with surges of anger, sorrow and even comedy.
"Love and Information" covers "so many emotions and instances in life" making it relatable to every person watching, senior Mindi Carpenter said.
"[The play] is about love in all its different forms, whether it's romantic love, friend love or someone understanding you," Lindgren said.
Due to the brevity of the scenes, projection technology will be utilized instead of a traditional set. The backgrounds will be projected onto the stage and the only physical pieces will be blocks. Lindgren said she found it, "interesting to interact with the projections."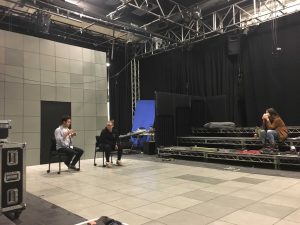 With the set being minimal, Carpenter said the setup made it, "easier to get into character instead of thinking about what's there."
It also allowed the director to visualize the play using a lot of love and technology.
"I've seen it in my head and I've talked with my designers about how I'd like the set to look," said Buran.
In making sense of the play and how the characters will interact with the set, Buran said that, "everybody is cast perfectly as they are in this moment."
Lindgren said a scene that the audience should keep their eye out for is the act of anger. It's a playful scene that strikes a "connection to childhood and [has] the child realize what they've done in a very dramatic silly way."
"I wanted to play with irony," Buran said, "You'll see different ways that people try to calm themselves whether it be through meditation."
The act reveals a range of enthralling emotional explorations. Buran said that the scene starts with water sizzling and coming to a boil at the end.
Carpenter's favorite scene is one where the characters are watching a wedding home video and the character challenges her to act in a way opposite of her nature.
"I'm the peacekeeper in the family, which is so unlike me, in a funny way," Carpenter said, "I also like it because it just reminds you of childhood and laughing at these home videos."
Buran also said that there's no "character description and no stage directions" in British playwright Caryl Churchill's original script. This left Buran with more freedom to connect the vignettes together in radical way.
"Grief is usually associated with something shameful — something hidden," Buran said, "I want to steer away from that. I want the audience to see different methods of coping and walk away knowing that their not alone."
The production debuts in the Black Box Studio Theatre,  Feb. 8, at 8 p.m.. The production's run is five shows. Starting Saturday and ending on Sunday, Feb. 12 at 2 p.m.. Tickets can be bought at the door, or to reserve tickets, call 805-493-3452 or visit CalLutheran.edu/college-arts-sciences/theatre-arts/.
Brandy Alonzo-Maryland
Staff Writer