This past winter break, 10 California Lutheran University students went on a week-long trip to Orlando, Florida as an alternative winter break. Instead of taking a vacation or visiting beaches and theme parks, they participated in a service project with Give Kids the World.
Based in Orlando, Give Kids the World is a non profit organization built on the sole purpose of giving kids with life-threatening diseases and their families cost-free vacations. For these families, these vacations include free trips to local amusement parks such as Disney World, SeaWorld, and Universal Studios, free meals, car rentals, a place to stay and all around travel.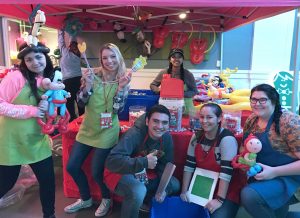 A mainly volunteer based organization, Give Kids the World provides over 2,000 volunteer positions per week. Each volunteer has the opportunity to help with the little things around the village, from food service to manning one of the many entertainment venues available for the children and their families around the property.
"Everyone had such good hearts and you could tell that they wanted to be there," junior Talia Van Wingerden said.
Based on the intent to fulfill the dreams of the kids visiting their village, Give Kids the World has been a successful non profit organization since 1986, with the help of thousands of volunteers, each helping the mission and giving over 150,000 children from all over the world their wish of a magical experience.
"It was honestly the most rewarding experience and it truly taught me to take nothing for granted" said Cal Lutheran freshman Christian Moreno, who chose to spend part of his break helping do dishes, serve food and interact with families from all around the world on the 79-acre property based in Orlando.
"I think that everyone in this world should go through one of these experiences and do a service trip," said Van Wingerden claiming that the most rewarding part of the trip was getting to meet the children and their families. "It's so eye opening, it's life changing and it really makes you realize how blessed you are."
An eye-opening experience for the student volunteers, they had the opportunity to sit down and get to know some of the families and the children staying with Give Kids the World.
"There are these kids who are struggling every day in their lives to keep up and you see them smiling about the smallest stuff, and it changes you. It was the most rewarding experience," Moreno said.
Sophomore Amanda Avella said her service taught her that the little things in life are just as important as the big things. "It was as simple as handing a child a piece of chicken in the service line. It could make their day."
Overall, students felt the trip was a success and giving up part of their winter break for service work was something they knew they would want to do again.
"You know you're going to do good and do service and get a life changing experience from it," Avella said. "I would do it all over again in a heartbeat."
Alexa Barnes
Staff Writer