Salottolo's Competitive Spirit Drives the Regals Game
"She's a dynamic person. She has a great personality. She's extremely competitive. I think she's one of the most competitive players we have in our program right now. Really wants to win and is very unselfish," said California Lutheran University's women's basketball Head Coach Lindsay Goldblatt when describing senior guard Jessica Salottolo.
Salottolo has been a part of the Regals program for the past four years and has accomplished many feats. Including reaching the 1,000th-point mark for her career this season.
"I honestly had no idea it was my 1,000th point. My dad told me after the game, but when he told me I was shocked. It was cool for sure," Salottolo said.
Reaching her 1,000th point came with a lot of hours spent in the gym.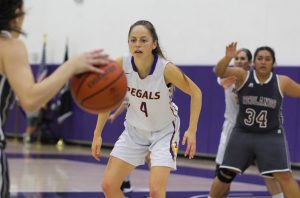 "Jessica is a very hard worker. She puts the time in before and after practice to come in and shoot and do the extra things that not everyone else does. She loves the game and you can tell in the way she plays," senior guard Sofia Cruz said.
Salottolo said her love for basketball began at a very young age. She has been playing for 11 years, and it all started with a Lakers game on television.
"My dad just had it on and I really loved Kobe Bryant at the time, and I saw him playing and thought 'I really want to play basketball,'" Salottolo said.
Salottolo played basketball for her fifth grade team and dropped all other sports to focus on the one she fell in love with. The Orange, California native said she sees herself as an all-around player and someone who will do anything the team needs her to do.
"I love playing with her. Her passion for the game is so inspiring. She leads by example. Some people are vocal leaders and some lead in other ways, but when we need a big shot Jess is the one that steps up," said Haley Hodgson, senior forward and roommate of Salottolo.
Salottolo's leadership is something the players recognize and something that has translated tp success. The Regals have finished off the first part of the Southern California Intercollegiate Athletic Conference season with seven wins and only one loss.
"We beat Claremont for the first time in my four years. We are now one and eight to them, which is wonderful. It was the literally the best win ever," Salottolo said.
Salottolo said her favorite moment at Cal Lutheran has come from one of those seven wins this year.
"I'm just excited to keep playing," Salottolo said. "We are all motivated and hoping for a good second half."
Salottolo will be entering the second half of her final season at Cal Lutheran and hopes to continue the roll that they have been on.
"It's been an absolute pleasure to coach her. I think I'm going to miss her personality, I'm going to miss her on the floor, her athleticism and her ability to score the basketball," Goldblatt said. "She's a really good example of what it is to be a Cal Lutheran women's basketball player."
Salottolo and the Regals will face off against the Whittier Poets at 7 p.m. inside the Dave Jacobs Court Feb. 1.
Gabriel Naudin
Staff Writer