Holocaust Survivor's 90th Birthday At CLU
January 31, 2017|22 Views
Holocaust survivor Clara Knopfler was liberated from Auschwitz concentration camp exactly 72 years ago, the day of her 18th birthday.
On Jan. 24, people joined together at California Lutheran University's Lundring Events Center to celebrate Knopfler's 90th birthday.
Knopfler said her 18th birthday was celebrated in Auschwitz with a makeshift cake consisting of three slices of bread, made possible only because her mother had not eaten for three days in order to have enough bread for her cake. And on that day she received the gift of liberation. Now over 70 years later, Knopfler is using that freedom to its fullest potential, to spread a message of love.
"Her message is important," Rabbi Belle Michael said. "Her memory is important. Her legacy is important."
Knopfler is very involved in the university and has been coming to campus to speak in classes and chapel for years. She shares her stories with students and faculty, which she has recorded and published in her book "I am Still Here: My Mother's Voice".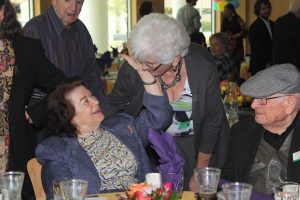 "I am fighting against prejudice, against injustice, against antisemitism," Knopfler said. "That is what I fight against."
Knopfler said the reason she started to write and speak out about her experiences is because of the strong encouragement she received from her mother, who was the only other person out of their 37 family members to survive the Holocaust.
Sophia Fischer, communication specialist to President Chris Kimball, described Knopfler's message as one "of hope, of acceptance, of the importance of diversity and interfaith, and love and friendship."
Knopfler said that she always emphasizes that "killing people doesn't solve the problem."
When word got out that Knopfler would be celebrating her 90th birthday soon, a team of university leaders including Fischer, Rabbi Michael and Matt Ward began planning her birthday celebration on campus.
Knopfler's friends, family, select university leadership and students were invited to celebrate this special day with her, including Kimball who is one of Knopfler's biggest supporters.
"Her life witness to the Holocaust is important and has been since it ever happened," Kimball said. "Sadly there are fewer and fewer survivors around as time passes and we have to keep that awareness and knowledge alive."
The celebration also served as a fundraiser for a newly established scholarship called the Clara Knopfler Jewish Leadership Scholarship. Guests of the event were encouraged to make a contribution to the scholarship to help support this commitment to diversity from the school.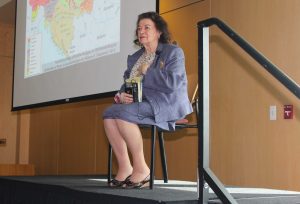 Rabbi Michael said that this scholarship is meant to help Jewish students come to campus and that it "requires the recipient to be active in creating student life on campus."
One of the ways to be active in the Jewish community on campus is by joining the Hillel Jewish Student Club.
Junior Briana Shneyder is the current Hillel President and expressed her gratitude toward Cal Lutheran on behalf of the Jewish students.
"Cal Lutheran is an incredible place for Jewish students," Shneyder said. "It's a very safe and protected school, we're given a lot of freedom and it's a nice place for us to grow."
Kimball agrees that he wants Cal Lutheran "to be a place where Jewish students, faculty and staff feel that their educational needs are met in a way that also enhances their faith tradition."
Part of enhancing that faith tradition is celebrating the lives of people like Knopfler.
Shneyder said that Knopfler is a big supporter of Hillel and very active in the club.
"She loves to just see how young Jewish people are," Shneyder said. "She looks at me. . . and she tells me that I am the future."
Amanda Souza
Staff Writer