Get Hired Or Help With Danny's Tutoring
February 7, 2017|10 Views
"I really love when students get it," California Lutheran University sophomore Stephanie Rolfson said. "When they make their way through practice problems, you see the light in their eyes and how excited they get."
Rolfson tutors middle school and high school students in subjects such as algebra, chemistry and biology with Danny's Tutoring.
This passion for seeing students connect with their learning is what inspired University of California Santa Barbara graduate Danny Kab, Danny's Tutoring founder, to create a student-driven tutoring business for students grades K-12.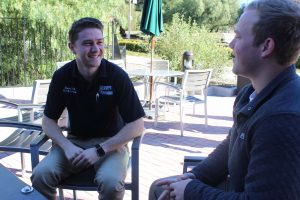 Spanning 35 cities around Conejo Valley and San Bernardino, Danny's Tutoring has boomed, employing over 55 high school and college student tutors.
"It went from 11 to 16 to 40 to 65 tutors," Kab said, "It's growing with demand."
Kab began the business eight years ago with only one high school employee, himself. After a surplus of referrals, Kab realized that he would need to hire tutors to help him fulfill the needs of all the students in his community.
When looking for tutors, Kab said he sought "students that would connect with kids and be role models."
Each tutor undergoes a personal interview with Kab where he gets to know the applicant and goes over expectations and how the position works.
"I was way nervous [during the interview]" sophomore Jack Kirby said. "Then you sit down with Danny and you realize he's a personable guy and it's a friendly conversation."
Kirby, a tutor in math and Spanish, said that he "got a lot of good information, like how to talk to kids and sell your self."
During interviews, Kab tries to get a sense of everyone's teaching style and find out how they connect with each individual.
"I like to relate stuff to analogies. For one of my students, I told them to think of it as if ions were sharing water bottles," Rolfson said.
Rolfson believes it helps students to understand abstract math problems by connecting them to tangible objects.
"When it's math, I try to relate it to money," sophomore Hayden Smith said. "It's something I was taught by my high school math teacher."
Smith tutors in algebra, pre-calculus, and chemistry.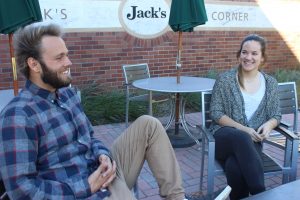 "Tackling it with the student and working through it helps reinforce the information for both you and the student. You can help the next student and the student can go on learning," Smith said.
Kab said that student-based tutoring helps everyone make a connection to the material in a way that taps into their learning style.
"I even still tutor myself now. I know that this tutoring works," Kab said.
Tutoring with a personal connection not only helps the student, but can also benefit the tutor.
"When you run into a problem you don't understand, you take the time to try to figure it out," Kirby said. "That's when you start to see your own grades improve."
Danny's Tutoring can fit a wide array of schedules with its flexible scheduling hours.
"A lot of us have limited free time," Smith said. "It's kind of the perfect college job."
Applications for Danny's Tutoring can be found online at http://www.dannystutoring.com. Kab seeks to hire personable and passionate Cal Lutheran students for all subjects, particularly math, science and languages.
"I'm actually interviewing someone… who can tutor in sign language," Kab said. "I've never had that before."
Brandy Alonzo-Mayland
Staff Writer