With nine seconds left in the game and down by one, junior guard Caleb Richy dribbled down the court and made a quick pass to sophomore guard Kyle Ferreira who knocked down the game-winning three to end the game at 59-57 against Pomona-Pitzer Feb. 4.
"It was great, Caleb made a good play for me and I was just fortunate enough to knock it down. I was ready. With Caleb running the show you always have to be ready because he is a hell of a point guard. It definitely felt great to see that shot fall down," Ferreira said.
The Kingsmen were looking for revenge as the Pomona-Pitzer Sagehens beat them by two points in the final two seconds of their last game Jan. 5. With a close score the entire game, Kingsmen kept their intensity up and answered back to end with a big win on their home court.
"We match up to them very well. Physically they're a little bit bigger and a little bit stronger in all the positions but we're athletic and we get to the hole better so we wanted to make sure we maintained that. We knew what they were going to run and they knew what we were going to run, this is conference play. There are no secrets but our guys definitely stepped up," Interim Head Coach Geoff Dains said.
With a lack of defense and luck not on the Kingsmen's side offensively, the men struggled to get a lead over the Sagehens in the first half of the game.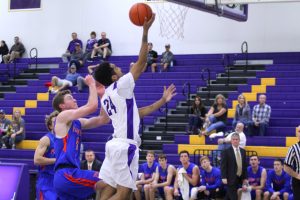 "We were a little slow, they knocked down some shots. We didn't quite get up and pressure the way we wanted to and then once we got into the flow we started getting into what we were working on in the last few days," Dains said.
Ferreira said the team struggled offensively the first half but once they got their defense dialed in and made some key shots, the Kingsmen got their rhythm back.
Richy, who led the game in assists, made the first comeback of the game. With only 1:38 left in the game, Richy drained a far out three to get California Lutheran University up by two points, 53-55.
"It felt great, I felt like I needed to step up. A lot of guy's shots weren't falling through so I was like I have to take some big shots to put us up a lead," Richy said.
According to the clusports.com, freshman forward Blake Miles earned a double-double for the Kingsmen with 12 points and 13 rebounds. Miles was the only player for the Kingsmen to receive double digit rebounds. Senior forward Wolfgang Wood and Ferreira led the team in points stacking up 14 each.
With the Sagehens continuously answering back with shots and not allowing the Kingsmen to take a larger lead than six points, Richy, who Dains referred to as the "best assist guy in the country," got a game-high of five assists, feeding the Kingsmen plenty of shots to overcome the Sagehens. Richy also received four rebounds and two steals.
"I feel good about my performance, a little banged up but I feel like I led my team as I should every game," Richy said.
Richy said the last key play, where he attacked hard after receiving an on-ball screen by Miles to make an assist to Ferreira for the game winning three, added on the win putting the Kingsmen in second place in the Southern California Intercollegiate Athletic Conference.
"It feels good to give Pomona what they gave us last game. The clock wasn't on our side, it was running down and we just needed to make a play, and fortunately I was able to knock it down. It was a big win for us," Ferreira said.
Next up, the Kingsmen will face Occidental at home Feb. 9 at 7 p.m.
Maryssa Rillo
Staff Writer