Kingsmen Snatch Their First Win of the Season
A packed gym filled with fans gathered Feb. 3 to watch as California Lutheran University men's volleyball team won its first match against Moorpark Community College. Playing at the Gilbert Arena, the Violet and Gold swept Moorpark in three sets 3-0 (25-23, 31-29, 25-16) to end a six-game losing streak.
"We finally got to feel how to win and what we need to do to win, so I think from here on out we are going to be able to build on this synergy," Gallardo said.
The match started with Moorpark earning the first point, but the following three possessions went Cal Lutheran's way as senior outside hitter Kristian Gallardo served up his first ace. Until midway through the set it remained a back and forth display with Moorpark either in the lead or tied, when suddenly Cal Lutheran jumped ahead 17-13 from freshman outside hitter Patrick Rowe's kill and three straight service aces. 
Ultimately, Moorpark came back and tied the game at 18 all as both sides fought for a definitive lead throughout the rest of the set. It was the first time this season Cal Lutheran closed the first set against an opponent winning 25-23.
The second set began similarly to the first with Moorpark taking the beginning points, and the Kingsmen went on a run after a kill by senior opposite hitter Mikey Esper and Gallardo's big three service aces to pull ahead 6-2.  Moorpark caught up, and the routine continued throughout the second set as Cal Lutheran would take the reins and Moorpark would force a comeback.
Halfway through the set the Kingsmen were up 14-8 before Moorpark continued to chip away at the score and eventually evened it up at 21-21. Multiple kills by Rowe and sophomore middle back Nick Oertli assisted with the team taking advantage of the set, plus a clutch service ace from Esper and the set-deciding kill by freshman setter Grant Nelson to clinch the set 31-29.
"As a team we played really good, we served well by Kristian Gallardo getting a lot of aces, our passing was very good, and our hitting was actually very phenomenal," Nelson said.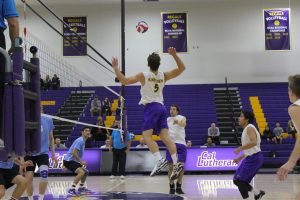 The third set started almost identically as Moorpark won the first point but the Kingsmen took the lead again 4-2 from two kills by Esper and another service ace from Gallardo. After the initial two points from Moorpark, Cal Lutheran did not let go of its edge and spread its lead from 8-7 to a commanding 20-13 deficit.
"We did a very good job at minimizing errors which kept us in the game," Gallardo said.
Sealing the deal were errors by Moorpark, plus a kill and another Gallardo service ace, and kills by Esper, Rowe, senior middle back Michael Campbell and freshman middle back Justin Dietrich.
To conclude in exhilarating fashion, freshman outside hitter Mason Mercer served up an ace to set up the match point and the Kingsmen dominated the final set 25-16.
"I'm very impressed with my freshmen class, as we saw in that third set they came in and really brought a lot of fire and energy and definitely allowed us to finish the match the way that we wanted too," Head Coach Kevin Judd said.
As the match finished, there was an eruption of cheer and joy from the Violet and Gold fans showing support for the no longer win-less Kingsmen.
"I'm pleased to death with the guys being able to overcome the tough schedule that I set up for them," Judd said.
The win over Moorpark is a step in the right direction as multiple players set career highs.
Gallardo came out to perform with six service aces, Rowe had three and the team combined for a season high of 11. Rowe also finished with 10 kills, and Gallardo, Esper and Campbell each had six. Nelson's teamwork was spot on as he contributed with a career-high 16 assists and senior setter Nick Shoemate had 13. Senior libero Jamal Balkhi performed well with 13 digs, Rowe joined with nine and Shoemate had eight.
The Kingsmen will be back at Gilbert Arena to take on El Camino College Feb. 10 at 6 p.m.
Matt Weisman
Staff Writer