Kingsmen Top Tigers in SCIAC Matchup
On  Feb. 9 at 7 p.m. inside Gilbert Arena, the California Lutheran University Kingsmen defeated the Occidental Tigers, 84-75.
Cal Lutheran was led by Wolfgang Wood's 26 points, Blake Miles' 20 points and Austin Cole's nine points. Kyle Ferreira also contributed 14 points on 4-8 shooting from the field.
Cal Lutheran was in front 48-35 at halftime and maintained a steady cushion until the final buzzer sounded. Occidental cut Cal Lutheran's lead to seven with 40 seconds left, but that was as close as they would come in the second half. Miles' 20 points was a career-high which he did on an efficient 9-10 shooting from the floor. Junior point guard Caleb Richey had 11 assists to help facilitate the offense.
"The major key to us winning tonight was our defense. Occidental leads the nation in fewest turnovers per game and we were able to turn them over 16 times compared to their average of nine," Head Coach Geoff Dains said. "I don't know if we necessarily made any adjustments during the game or at halftime, we just wanted to up our intensity, fine tune offensively and defensively, and maintain our game plan to take away some of the things they do well. We didn't want their point guard to run the offense, we wanted someone else to, so that was our game plan there."
"The defensive end was the main reason we were able to win tonight," Wood said.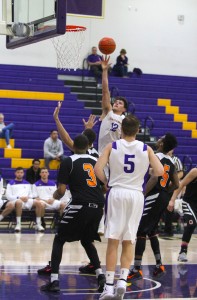 Cal Lutheran shot 32-58 from the field, 8-16 on three-pointers and 12-22 from the line. Miles led the team in rebounds with eight, Ferreira contributed three of his own and added three steals as well. Junior guard Caleb Richey had a game high 11 assists. Junior guard/forward Kenneth Moffett was right in the mix adding 10 points on the board for the Kingsmen from the bench.
"The keys to our win tonight were to be patient on offense, work the ball around, make the defense break down and work the ball inside and out. Johnson and Miller were their guys, so we had to slow them down defensively and help each other out," sophomore guard Austin Cole said. "We know if we can continue to move the ball on offense and get good looks that will lead to good scoring opportunities."
Dains said something for Cal Lutheran to improve upon for it's next game at Redlands are free throws, as he said they were not very good at the end, "which was a surprise because we have got some really good free-throw shooters, we just didn't concentrate and knock them down. If we had made more at the right times it would not have been as close as it was."
"I think we were 12-22 on free throws so we need to concentrate more on knocking those down and closing the game out well," Wood said.
Cal Lutheran will play its next game on the road Feb. 14 at Redlands.
David Brown