Valentine's Day Bash
"I can't wait to go to the chocolate fountain and to make use of the photo booth, that looks like a lot of fun to me and my friends," said Vitaliy Kostylov as he stuffed his "Hug Me" Valentine's Day heart-shaped pillow.
On Feb. 12 at 6:00 p.m., Associated Students of California Lutheran University Government hosted a Valentine's Day party for all California Lutheran University students in the Student Union. Students brought their roommates, friends and significant others for a night of fun Valentine's Day activities.
"I'm here with my roommate, we're having a good time with all of the stuff going on in here," student Mandy Avella said.
The most popular event was the chocolate fondue fountain. The line never stopped as students dipped strawberries, pretzels, marshmallows and bananas into melted milk chocolate.
"People seem to really like the chocolate fountain which is good because it is so simple and easy. We just had to cut up some fruit and candy and people love it," ASCLUG Programs Board Director Andres Elvira said.
The activities included a photo booth where people could dress up for the holiday, eat food with a chocolate fondue fountain, watch the movie Hitch, write letters to veterans and a stuff-your-own heart shaped pillow station.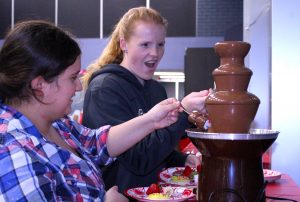 "I am making the 'Hug Me' pillow for my girlfriend so she will hug me every single time I show her the pillow," Kostylov said.
The pillows were a success as they were gone within the first 30 minutes of the event.
"It's kind of hard trying to stuff all of this stuffing in there with just your fingers, there's a tiny zipper, but my heart will turn out really cute," student Marissa Holguin said.
Students chatted around the Student Union and discussed their plans for the holiday.
"I'm not doing anything on the day of, but I got lots of chocolate and teddy bears sent in a care package from my dad back home. It was really cute," Avella said.
Kostylov said he and his girlfriend don't have any Valentine's Day plans yet.
"It's all up to her. She gets to make the move this time," said Kostylov.
This holiday is about celebrating the ones you love, and Cal Lutheran helps everyone feel that way by providing an activity that let students write letters to veterans. At this station, there were post cards where students could let veterans know that they are appreciated and loved. This was a popular event and many people said they couldn't wait to write a nice letter.
"I am making cards for service members. I think that this is so important because not everyone is able to receive wishes and notes during this time," student Anya Moody said.
This event was decorated with pink and red hearts, balloons and a lot of conversation hearts. Candy and snacks were all over the tables.
"My favorite color is pink, and so that's a reason why I like Valentine's Day. I really like the colors in here," Holguin said.
ASCLUG put a lot of time and effort into this event to make Cal Lutheran students feel the Valentine's Day spirit.
Dakota Himmelman
Staff Writer