Kingsmen on the Hunt for the Five-Peat
Last season, California Lutheran University's baseball team won its fourth consecutive Southern California Intercollegiate Athletic Conference title. As this year's preseason favorite, the Kingsmen aim for the fences in hopes of adding on to their winning streak.
"Seeing the Kingsmen baseball team evolve from my freshman year, we have a new identity each year.  In the previous years, we were a big hitting team," senior pitcher Trey Saito said in an email interview. "I believe for this 2017 team we are smaller in size, but we are a gritty team, fighting for the guys next to us."
Along with Saito, a First Team All-SCIAC selection, the Kingsmen senior class includes pitcher
Marshall Pautsch, outfielders Brad Fullerton, Nick Cohan, Sinjin Todd and Gabe Gunter, infielder Jimmy Jauregui and Eddie Villegas behind home plate.
Villegas, a Second Team All-SCIAC selection, has high expectations for the team this season and encourages everyone at Cal Lutheran to come out and root for the home team.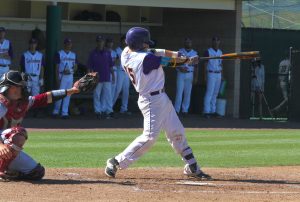 "Even though we do have a new identity, people still need to come out and support. People may think this is a rebuilding season, because we have a new face, but I think we're going to shock people in the SCIAC and in the west region. We're still going to compete, win and give everyone a run for their money," Villegas said. "We're going to defend our four-peat, and we don't plan on rolling over and giving it to anyone else. We're going to make you take it from us."
The Kingsmen's roster underwent a major overhaul this past year after graduating several of their key players, but Head Coach Marty Slimak expressed his feelings about the upcoming season through their latest transformation.
"I am optimistic about this team, but I also have to be very cautious, because everyone else has gotten better too. Every one of the players, especially the returning players have to step up," Slimak said. "We lost eight seniors last year, so the seniors this season have to step up along with a very good freshman recruiting class that we brought in."
Over the weekend, the Kingsmen traveled to Tucson, Arizona to participate in the Cactus Classic Tournament.
Cal Lutheran's season opened against Linfield College Feb. 10, but the Kingsmen fell short to the Wildcats, losing 2-1.
The following day, the Kingsmen came back swinging. Cal Lutheran faced Pacific College  Feb. 11 and obliterated the Boxers in a 12-0 shut out.
On Feb. 12, the Kingsmen defeated Sul Ross State 5-4 with Scott Roberts as the starting pitcher and Nate Wehner closing for the win.
"I'm looking forward to being on the field with the boys again and being able to get a second chance at the national championship title," Saito said. "As a senior, I am here to guide and help the freshmen understand what the Cal Lutheran baseball program means, and to help them build their own legacy at Cal Lutheran."
Tate Rutland
Staff Writer