Regals Drop Opening Day Games
With permission from clear skies, the California Lutheran University softball team played the Whitworth Pirates Feb. 9 in the opening games of the season. The Regals defended the diamond with strong defense and back-to-back runs in both games, but were overtaken by Whitworth 4-2 in game one and 4-3 in game two.
"We came out swinging which I guess we're kind of a team that waits later in the game to come out and hit," senior outfielder Amanda Lewis said. "So once we got past the nervousness we tried battling back and didn't let it get to us."
In her final opening game at Cal Lutheran, Lewis hit an RBI triple during the first inning scoring freshman pitcher/outfielder Brittany Workman, just before junior third baseman Olivia Leyva smashed an RBI double that put the Regals within a run of the Pirates. The second inning of game one saw scoring attempts from both sides, but remained dry for the rest of the game as Whitworth controlled the offense.
Both teams fought for a lead throughout the first game, with the Regals notching five hits total. Of the five, Lewis and Leyva collected one hit each.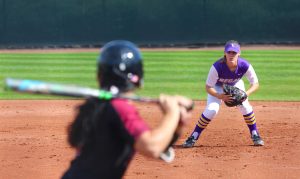 "If [Thursday's] game is any indication of the rest of the season, we should be pretty set," Leyva said. "It will be in practice, really, where we will continue to get better. We are all loose and like to have fun, but we know when it's time to joke and when it's time to get to work."
In the beginning of game two Whitworth got an RBI triple that gave the Pirates a one-run lead over the Regals. At the top of the fourth inning, Whitworth led the Regals 2-0. Cal Lutheran caught up, however, when Leyva tripled into right field and scored, closing the gap by one run.
"Our defense came out a lot stronger than I expected," junior second basemen Mikaela Mayhew said.
After the Pirates took a 4-1 lead over the Regals in the fifth inning, Lewis doubled into left field scoring Workman and junior center fielder Jacy Watanabe. Whitworth was left in charge of the offense after Lewis' hit, and Cal Lutheran didn't score after that.
"We need to score more runs, we need to hit a bit better, you know," Head Coach Debby Day said. "But it's really early in the season, so we have time to get aggressive in base running and trust our instincts. We were right in there with a team that has won their conference the last two seasons, so I think it was a productive start that we got a lot out of."
The Regals will travel to Whittier College Feb. 18 in their first Southern California Intercollegiate Athletic Conference matchup against the Poets at 12 p.m. and 2 p.m.
Olivia Schouten
Staff Writer