Spectators of all ages came to California Lutheran University's Hub101 in Westlake Village Feb. 9 eager to learn about the future of virtual reality. Hub101 is a co-working, incubator community assisting students interested in starting businesses. Any Cal Lutheran students are welcome into Hub101 for free with many options for workspaces.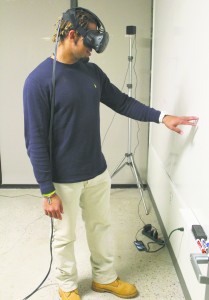 "Being that we are owned and operated, we are a California Lutheran University program and so our attitude is community, and our students are community," Community Relations Manager Greg Monterrosa said.
At the venue, there are multiple rooms for students to work in to concentrate on their startups ranging from a massive lobby, offices, conference rooms, an outside area and classrooms for master's programs focused on entrepreneurship. There is a healthy mix of students and adults interacting, creating the opportunity for networking with like-minded entrepreneurs.
People from all over the community attended the event free of charge while it was additionally streamed live online, giving multiple ways for information-seeking individuals to learn about virtual reality. Speaking on behalf of the virtual reality company, Emblematic Group was former Cal Lutheran alumnus and senior producer Cedric Gamelin.
The presentation started off with a discussion of the company's formation by Founder Nonny De La Peña and taught the audience about the formation and growth of the company. Emblematic Group's goal is to reinvent storytelling through the use of virtual reality and transition toward immersive journalism.
The idea of immersive journalism is for people to be able to see the story up close as if they are at the scene. Immersive journalism could be used to show what is happening in Aleppo, Syria and viewers would see what is happening in the location firsthand.
"I think virtual reality is going to be a really helpful tool to help with education and journalism. He hit us with a really cool angle. It's a different way of showcasing news," Monterrosa said.
Emblematic Group is currently in post-production on a virtual reality documentary "After Solitary," which shows the living spaces inside a detention facility in Maine and the viewer would see through an inmate's point of view.
"Not until I was in the cell did I understand. It took me a few seconds. You are in the cell and it's tiny. I have goosebumps just talking about it because it's scary," Gamelin said. "Think about a man who has spent five years of his life here spending 22-24 hours a day in this cell with no contact with other humans. This is insane, it's crazy."
Gamelin continued to discuss multiple applications of virtual reality including arcade games. One example was the Singapore Grand Prix, branding, data visualization tools, such as watching the fluctuation of the stock market, education, business to business communication and assisting the physically handicapped with beginning to walk again.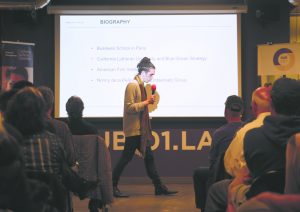 "The amount of students that are going to benefit from a space like this is going to be amazing," Monterrosa said. "In a short amount of time the impact that we've had on students and our community has been something else, and that is because we come from an angle of give first."
Hub101 hosts a weekly Entrepreneur Speaker Series event where people with an entrepreneurial background are given the microphone to tell their story to an audience to educate, to promote a company or to pitch for an investment.
"A lot of them come from my network. I've been around entrepreneurs for a long, long time, and I'll choose a speaker based on my past experience, knowing that they have a compelling story to tell," Executive Director Mike Panesis said.
Daniel Restuccio, instructor of multimedia, and his entire class were in attendance.
"I think it was really interesting and inspiring because he went to Cal Lutheran, and then he kind of talked about his journey, where he started from and how he ended up finding his passion in virtual reality," one of Restuccio's students Zhamak Fooladbakhsh said.
As the night concluded, there was a virtual reality demonstration for the audience members to try, promoting awareness toward domestic violence.
"Tonight's event was a success. We had students from the multimedia department come out and experience the event and people in our community really enjoyed the content. It's neat that a space like this is able to bring the cutting edge of what's happening in technology here to Thousand Oaks," Monterrosa said.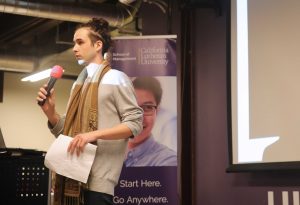 The next events at Hub 101 will take place Feb. 15 at 5:30 p.m. and 7 p.m. The first event will be The Data Science Behind Artificial Intelligence and the second event is 805 Startups: Insight Into Dating, Social and Lifestyle Industries.
By Matt Weisman
Staff Writer