Kingsmen Drop the Ball Against Hope International
The California Lutheran University men's volleyball team lined up to battle in Gilbert Arena Feb. 16, only to fall to the Hope International Warriors 3-1 (18-25, 27-25, 25-22, 25-18).
Though losing the second, third and fourth sets to the Warriors, the Kingsmen came out swinging with great team chemistry and court presence in the first set, with help from senior outside hitter Kristian Gallardo.  Hitting a game high of 18 kills, Gallardo contributed toward the Kingsmen's overall offensive stance against the Warriors.
"There was a lot of really good volleyball tonight," Gallardo said.  "We were passing great as a team, putting it right on our setter's head and he was able to distribute and give everyone a lot of one-on-one opportunities, making it easier to put the ball away."
Another key to the Kingsmen's offensive success against the Warriors was senior setter Nick Shoemate, who combined on multiple blocks and even had some key defensive plays for the Kingsmen.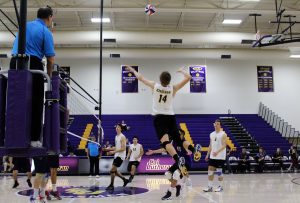 "We came out strong in the first set tonight, but we couldn't hold on," Shoemate said.  "We've been working in practice to limit our errors and to give the hitters a strong presence on the court and I think we really did that tonight."
When it comes to focusing on the upcoming games of the season, including a trip to Arizona this upcoming weekend, Shoemate hopes to focus on keeping energy high and intensity up.
"We were a little low on energy in the last couple of sets, but we just have to continue working on keeping that up the entire match," Shoemate said.
Another strong offensive presence on the court came from freshman outside hitter Patrick Rowe, who tallied up a total of 15 kills for the Kingsmen.
"We played really well in the first set, but we sadly couldn't keep it going and we lost our energy somewhere between the third and the fourth set," Rowe said.
Talking on the positive side of the match, Rowe contributes much of the team's success to the passing game for the Kingsmen.
"We had a really good passing average tonight, we put the ball away really well, Jamal [Balkhi, senior libero] had key passes tonight and the setters dished it out well," Rowe said.
Looking forward to the rest of the season, Rowe said he is excited to continue to grow as a team.
The Kingsmen will travel to Arizona to take on Benedictine-Mesa University at 2 p.m. and Grand Canyon University at 5 p.m. Feb. 18.
"I'm honestly just excited to continue to play as a team," Rowe said.  "We have great team chemistry and we have a lot of fun together.  Whether we win or lose, we always stand by each other and we have each other's backs and I think that's what I'm really excited for."
Alexa Barnes
Staff Writer