The Night Cal Lutheran Thought About Love
LGBTQ youth actors share their personal stories of acceptance and identity
On Feb. 15. Gender and Women's Studies, PRIDE Club, Campus Ministry, Student Life and Mission and Identity sponsored the screening of a film called "The Year We Thought About Love" in the Lundring Events Center.
The film showcased members of a group of LGBTQ youth actors between the ages of 14 and 22, who worked together in Boston, Massachusetts. They put on an ensemble performance called True Colors: OUT Youth Theater, recounting stories of their own lives and their various journeys of acceptance with their own sexualities and gender identities.
Melissa Maxwell-Doherty was the key person in organizing the screening of "The Year We Thought About Love," because she received an email from The Film Collaborative, the company that distributes the film, asking if she wanted to show it at California Lutheran University.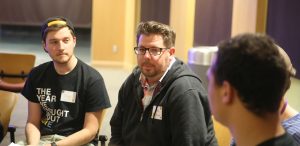 "When I read [the summary of the film], I thought, 'That's a fit for Cal Lutheran,'" Maxwell-Doherty said. "We have students and faculty and staff of many different genders and identities and orientations, and there's something about a story that captivates."
Maxwell-Doherty said that once she read the description, she started reaching out to colleagues such as Peter Carlson, assistant professor of religion and history of gender, sexuality and religion, Scott Silverman, assistant dean of students and director of Student Life and Michelle Cerami, president of PRIDE Club. She also spoke with her husband, Pastor Scott Maxwell-Doherty of Campus Ministry, who brought Rabbi Bell Michael along.
Cerami helped to coordinate the event with the Gender and Sexuality minor on campus, and she also reached out into the greater community in order to invite more people to the screening.
"We reached out to the community, so we had the Thousand Oaks Lesbian Moms, we had the retirement center, we had high schoolers, we had people from PRIDE, we had people from Religion 100 and Soc[iology] and education classes. So we definitely had a wide audience," Cerami said.
Cerami said her favorite part of the event was the amount and wide variety of people who attended the event.
"I really loved having classes come and having [LGBTQ] allies come and watch this because I think it's one thing to hear about it, like 'Oh, gay people, great,' but it's another thing to see them on screen and to get to know more in a different intimate level," Cerami said.
After the screening, there was an optional discussion portion where, based upon the colors on the name tags, participants split into groups and members of the PRIDE Club asked questions such as "which of the characters did you like the most, and why?" and "describe a moment in the film that spoke to you, and why it spoke to you."
Dane Rowley, the director of International Admission in the Undergraduate Admissions office, was a participant who stayed for the discussion.
"The context might be different. It might be a guy and a guy, or a girl and a girl, or a trans[exual] person and a woman or whatever it might be, but the fundamental feelings of love and of disappointment of pain and of fear are universal among humans," Rowley said. "LGBTQ equality and freedom is really an area that I'm passionate about as a straight ally."
Henry Studebaker
Staff Writer