Careers in Communication Panel
February 21, 2017|6 Views
On Feb. 16, California Lutheran University's Career Services hosted the latest installment in their annual Careers in Communications speaker panel in Ullman Commons 100 and 101, from 4 to 5:30 p.m.
This year, the professionals who spoke were Artis Twyman, senior director of communications for the Los Angeles Rams, Sarah Holmes, senior vice president at Frank N. Magid Associates, Trevor Kelley, vice president of marketing, content and media at Disney Consumer Products and Interactive and Alexa Boldt, communications associate at Global Brigades, according to The HUB and the informational flyer handed out to those who attended the event.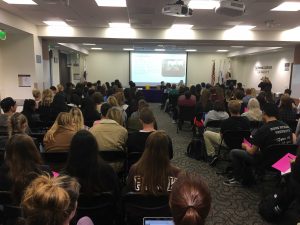 Cynthia Smith, assistant director/career counselor in the Career Services office, was critical in assembling the speakers for the event, along with Sharon Docter, professor in the Communication Department.
"I work closely with Sharon Docter in the Communication Department, and so her and I kind of brainstormed when we're planning the event," Smith said before the event. "She works closely with the students, obviously, and keeps in touch with a lot of the alum."
Of the four people who attended, Twyman is the only one who didn't attend Cal Lutheran.
"Three of them are alum," Smith said. "Artis [Twyman] is the only one that's not an alum, and we invited him because our division actually got to go do a tour at the facility across the street. And so we heard him present and were really impressed, and if you've heard him speak before, he's a great speaker. And just the name brand would draw students."
Tywman, who will be going into his 15th season with the Rams, said that he got his start in the football industry because of an internship.
"Just started out as an intern with the Houston Texans, this is one year before they started playing football," Twyman said. "Worked there, then I got an opportunity to get a full-time job with the Seattle Seahawks. And so I moved up to Seattle. I was there for two years, and then after that, [an] assistant director's job came open with the St. Louis Rams.
As for his favorite part of the job, Twyman said it was the relationships he made with the players, coaches and staff.
Holmes, who was in one of the first classes to graduate with a bachelor of arts in marketing communication from Cal Lutheran in 1999, got started in her industry because she knew she loved writing and talking to people.
"When I discovered market research could actually be fun when it's applied to the business world, and especially in the world of entertainment and TV, I happened to find a networking connection who happened to be through the dear Sharon Docter, and [Docter] made an introduction for me," Holmes said.
Holmes said that her favorite part of the job was talking to people, as she thought people were fascinating, and that all of them have their own stories.
Kelley, who graduated from Cal Lutheran with a bachelor of arts in communication in 2004, got his first start in his field through making and distributing his own magazines when he was a teenager.
"I really got started doing it myself," Kelley said. "I wanted to be a journalist, and so I started as a teenager publishing my own magazine out of my house, and selling it through distribution channels that were as a small group of music people that I just got to know over the years."
Kelley said that the best part of his job was the people, both those that work under him and those that he works around and for.
Finally, Boldt, who was the most recent graduate on the panel, graduated Cum Laude in 2014 from Cal Lutheran with a background in communications and multimedia. She spent nine months out of her last year as an undergraduate abroad, after which she started writing for a paperback home in rural Oregon.
"So, that's how I started, and I realized how off it was for me and my skill set and my passion, so really then recognizing that in figuring out 'Okay, what are the other options that are out there?' That's how I got started in the field of nonprofit," Boldt said.
Boldt said that the best part of her job was that people's lives got better because of her work.
Henry Studebaker 
Staff Writer