Big Bear Mountain Trip: S'mores, Snow and Sledding
On Feb. 10 – 12, Outdoor Recreation hosted a trip to Big Bear Mountain. Students of California Lutheran University spent the weekend in the snow, enjoying the fresh dusting. This event was part of the Outdoor Recreation series, which includes different outdoor day and overnight trips that the organization puts together for students to go on.
"Last semester was a trip to Ojai, and I think I chose Big Bear this semester because I wanted to change the scenery. We wanted more water this time because last time we did not have enough," said Matthew Trujillo, outdoor recreation intern for Recreational Sports.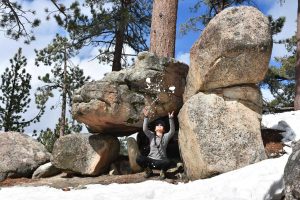 Students paid $60 to attend the trip. It included food, housing, transportation to and from the mountain, and a lot of outdoor activities planned for the students.
Students stayed in two-story cabins with two living rooms, a kitchen and enough bedrooms to hold 12 people on beds and couches.
"We went to the market and bought food to cook, and we got home and made a huge breakfast for the group. Half of us cooked eggs and bacon and the other half cleaned, it worked out really well," attendee Lauren Rezak said.
Trujillo planned a hike to Castle Rock, sledding adventures, s'mores and time in the village for the students.
The hike to Castle Rock was a success, although the students were up to their hips in snow. After the hike, students got to scramble or free climb the rock formations at Castle Rock.
"I loved the hike to Castle Rock, it was snowy and I kept falling down, but it was super fun to hike up there and listen to the loud music on the speakers and eat lunch once we got to the top of it," Rezak said.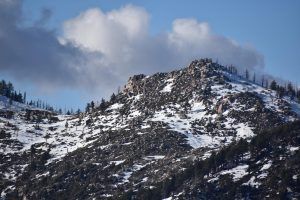 The hike to Castle Rock was only a mile long but it took about four hours to get to the end of it because of the snow and obstacles on the way up to the top.
"I actually loved the hike and I am not a hiker, but everyone helped me out. It turned out to be a great team building activity," student Mary Lawrence said.
The hikers recommended bringing three pairs of socks and extra pants for the hikes.
The Big Bear Mountain trip brought many students together who had never met and everyone said that they had made new friends.
"I knew about half of the people that went but I definitely made new friends out of a two-day trip. It was really cool," Rezak said.
The Outdoor Recreation series provides students with new opportunities to make connections with other Cal Lutheran students.
"My favorite memory of the trip was actually on the way back from the trip. We were playing Taylor Swift and we ended up belting out the lyrics and everyone was singing," student Asia Moore said.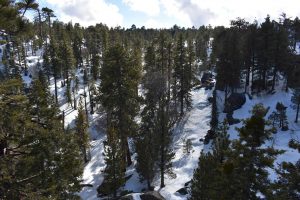 Outdoor Recreation will continue to plan these events each semester and Undergraduate and graduate students are welcome to join any of the events.
Outdoor Recreation also hosts events in Kingsmen Park that students can attend for free. Students can find out more about these events online and on The Hub.
Dakota Himmelman
Staff Writer