Regals Thump Leopards with 36-point Win
On Feb. 18, with their biggest margin of victory this season, the California Lutheran University Regals defeated the La Verne Leopards, 85-49.
Senior guard Jessica Salottolo was the leading scorer with 19 points. Junior guard Makenna Murray scored 13 points and freshman guard Natalie Ruhl had 11 points off the bench.
As a team, Cal Lutheran shot 53 percent from the field and 48 percent for three pointers. At the end of the first quarter the Regals led 16-10, and then in the second quarter Cal Lutheran broke the game wide open and outscored La Verne 30-9 to take a 46-19 lead into halftime.
"I thought we did a really good job of sharing the basketball, knocking down shots and finishing off our offensive possessions," Head Coach Lindsay Goldblatt-Samaniego said. "The key in the second quarter was our defense created easy offense for us. We were able to get some tips and steals out of traps and get easy baskets in transition and I think that kind of changed the course of the game for us in our favor."
Salottolo's 19 points came on a precise 8-10 shooting from the floor.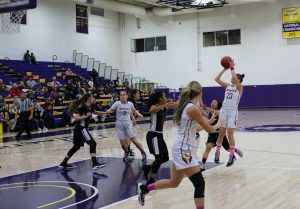 "The major key to winning today was our team effort. Everyone was involved today, most everyone scored, we had 18 assists and we were knocking down shots, which was awesome because coming from previous games we weren't knocking down shots. So how we came together as a team was our key tonight," Salottolo said.
One of the highlights of the game came with one second left in the first half and Salottolo was inbounding the ball. Surprising La Verne's defense, she bounced it off the back of a defender, got the ball back, drained a 3-pointer plus a foul and converted the 4-point play.
"I knew there was only a second left so I had to do something quickly, and her back was completely turned so I bounced it off of her, shot it and it went in," Salottolo said.
Ruhl entered the game in the second quarter and provided a spark for the Regals, scoring 11 points on 4-5 shooting from the field, five rebounds and three assists.
"I think we moved the ball really well, and got the ball to the right person to get good shots off. We read their defense well and had good rotations to get off good looks," Ruhl said.
Cal Lutheran had a 38-19 rebounding advantage over La Verne and the Regals had 13 turnovers compared to the Leopards' 20 turnovers. A pivotal difference between the two teams was that Cal Lutheran shot 48 percent (12-25) for three pointers while La Verne shot 23 percent (3-13).
Senior guard Sofia Cruz had eight points and also four of Cal Lutheran's 13 steals, which helped the Regals get out into transition and score fast break points. Senior forward Haley Hodgson scored four points to go along with a team-high eight rebounds, and junior guard Kiana Gray chipped in seven points and four rebounds off the bench.
Cal Lutheran will play its last regular season game Feb. 21 against Caltech for Senior Night in the Gilbert Arena at 5:30 p.m.
David Brown
Staff Writer