Spreading Love Through the Community
Valentine's Day was filled with five different events that shared the love in the California Lutheran University community. The events on campus were hosted by different groups to support a cause or charity.
The first event of the day was Heartfelts where students picked up felt hearts of their choice and pinned the heart to their shirt to support the spreading of love and unity.
"I just like the idea behind it, that you are showing affection to everyone and it isn't just a holiday about being a couple, that it's a holiday that encompasses everybody," said Linda Boberg, assistant director of International Student Services and Multicultural Programs.
Heartfelts took place between 10 a.m. and 12 p.m. and was located outside of Starbucks.
"It's going well, we've had a lot of students stop by and pick up hearts," Boberg said.
The Kisses Booth was the second Valentine's Day event to occur on campus, and was held by the Happiness Club. Students were welcome to come to the booth and pick up Hershey kisses between 10:30 a.m. and 1 p.m. on the Spine.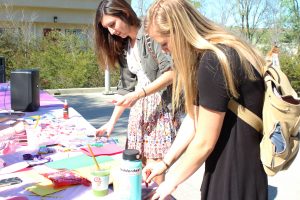 Next to the Kisses Booth on the Spine was the Fair Trade Valentine's Day event, whose goal was to educate students on Fair Trade and send thank you letters to farmers and artisans.
"We are doing a Fair Trade Day Valentine's Day, so we are writing valentines for Fair Trade farmers in Peru, and Guatemala and El Salvador, just to show that we are thankful and they are able to grow these things for us and we are able to enjoy them here," said Rachel Lapp, Fair Trade Green Made Cal Lutheran club organizer. "It's kind of a way to just show our gratitude for the work they do so we can have yummy things."
At the Fair Trade booth, the club was selling chocolate and had letters for students to write on to show gratitude toward farmers and artisans.
"I think all of us need chocolate and all of us love chocolate so the Fair Trade Valentine's Day is fun because a lot of people will buy chocolate and if we can get people to support more Fair Trade chocolate then we are doing a service in a way," Lapp said.
When people purchased the chocolate, it gave the club members the opportunity to educate and inform them about the significance of the event and why giving back is important.
"I think we've gotten some new people learning about what Fair Trade is so that's a big portion of this event is helping spread the word and supporting Fair Trade farmers and artisans," club member Claire Thompson said.
The Fair Trade event occurred from 11 a.m. until 1 p.m., while across campus in Soiland Gym the Share the Love event was happening from 11 a.m. to 2 p.m.. The Share the Love event was organized by the Connect Committee with numerous booths featuring an array of causes and charities.
"The idea was raised to gather charity organizations and non-profits together on campus on Valentine's Day, inviting students, faculty and staff to share the love with these organizations in the spirit of generous love," said Andy Hanson, senior coordinator for Residence Life and Student Conduct.
There were many organizations with booths set up, including Heart of Jubilee, a safe house in Moorpark for victims of human trafficking. In addition, there were other charitable groups including Many Mansions and Extra Life, among other fundraising groups.
"I was tabling for Extra Life, a 24-hour gaming marathon fundraiser. All proceeds go to Children's Hospital Los Angeles and the official event is held this Nov. 4," Hanson said.
The final event took place between 2 p.m. and 3 p.m. at the Student Union for the Cal Lu Loves Their Commuters event. The event was for commuter students to be acknowledged and to be shown how appreciated they are in the campus community, and have the chance to meet with staff genuinely interested in the students' success.
By Matthew Weisman
Staff Writer