Kingsmen Blow Past Cal Tech on Senior Night
The California Lutheran University men's basketball team faced up against Cal Tech in Southern California Intercollegiate Athletic Conference play for their regular season finale, beating the Beavers 88-62.
Before the game, the Cal Lutheran men's basketball team honored seniors, forward Wolfgang Wood, guard Sam Cirillo, guard Adrian Francis, center Jacob Dawe and center Reagan Chapman, playing in their final regular season game as Kingsmen in their annual Senior Night.
The Kingsmen came out shooting to start the game with the hot hand of Wood, with his team-high 18 points, and took an early eight-point lead with 9:12 left in the first half.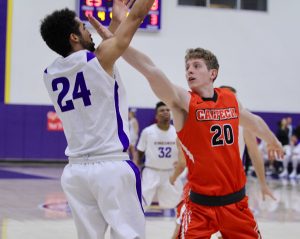 "I thought we played well, we knew that Cal Tech was going to come out a little more aggressive because we beat them pretty well the last time, but defensively we got locked up and that's been our calling the last couple games," Wood said.
Defensively the Kingsmen suffocated the Beavers in the game, thanks to some tough minutes from Dawe, who came off the bench with four rebounds and one block to give the Kingsmen a boost. He also hit his first three-pointer of his career.
"It felt great, I'm more of a role player, so I don't see big minutes, but it felt great to get in especially on Senior Night and contribute," Dawe said.
The Kingsmen finished the first half only allowing the Beavers to shoot 44.4 percent from the field, while the Kingsmen shot 54.5 percent from the field and 44.4 percent from beyond the arc. They went into halftime with the lead 46-34.
"It is always a little tentative with Senior Night because there is a lot of emotion, a lot of pageantry and you get focused in on that. But you know we got good players and we got some leadership there, so once we kind of got into the flow of the game, we got that out of our system, it started to go a little bit better," Head Coach Geoff Dains said.
The Kingsmen didn't miss a beat coming back out in the second half and were able to extend their lead.
The Kingsmen finished the game shooting 49.2 percent from the field and were able to hold off the Beavers and secure a victory 88-62.
"I think we are at our peak right now and playing the best basketball right now," Wood said.
The Kingsmen will be hosting La Verne Feb. 24 at 7 p.m. in the SCIAC Postseason Tournament Semifinals.
"Well we're in the postseason tournament, so that's encouraging, it's always a lot of fun," Dains said.
Dillon Brown
Staff Writer