Two Unlikely Senior Buddies
California Lutheran University senior Gina Domergue has had a college experience like most other students, but there's one relationship she's made that stands out from the rest.
Standing at 4 feet 6 inches tall, Sylvia Macks, a 92-year-old Philadelphia native, met Domergue at the beginning of her college career, thanks to Cal Lutheran's Senior Buddies Program.
The Senior Buddies program, formerly run by Cal Lutheran's Community Service Center, is a program for students to connect to members of the senior community in Thousand Oaks. Also known as the Legacy Project, the program allows students to meet with a senior citizen typically over the course of a month, acting as a "legacy" coach and provide a written summary of what they learned from their meetings.
"I asked her why she volunteered for the program and she said she wanted to make a new friend," Macks said.
Domergue and Macks both live far away from family.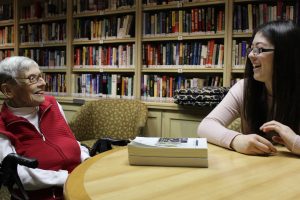 "I'm from San Francisco, so I think one of the things I really missed when I came down here was being close to family. Once I met Sylvia, it solidified home at Cal Lutheran," Domergue said. "Having her around feels like having my grandmother, or I like to call Sylvia my adopted grandmother. I feel at home when I get to spend time with her."
Domergue and Macks flipped the script on the course project as they continue to meet every week and have done so for the last four years. Even while Domergue was abroad last summer, the two kept in touch through postcards, snail mail and Google Voice.
"We always debrief each other about how our week is going, both the good and the bad stuff. That's always been something I look forward to," Domergue said. "It's really nice to be able to take a step back from all the hectic things that go on in college and to be able to analyze and reassess by talking through it with Sylvia."
With Macks' family residing across the country in Philadelphia, she said Domergue's visits are always a joy.
"It's so exciting for me to be able to communicate with younger people because even though I have grandchildren, they're always far away and I never saw them grow up or even through school," Macks said. "I'm just having a ball."
Sitting side-by-side at a table near one of the recreation rooms at the Reserve retirement community, Domergue and Macks tell stories about one another with the most contagious affection.
"When I was a sophomore, Sylvia's 90th birthday was coming up. I asked her what she wanted for her birthday, and all she wanted were some homemade chocolate chip cookies," Domergue said. "It was such a simple thing, but seeing her face light up when I gave them to her was priceless. I aspire to still be able to eat all the chocolate chip cookies I want when I'm 90 years old too."
Along with a common love for chocolate chip cookies, Domergue and Macks also share an interest in education and traveling.
"[Education] was one of the first things we bonded over," Domergue said. "I would always tell her about what I'm learning in my classes and Sylvia would tell me about different trips that she had taken to different hostels."
Macks began working at the early age of 16 years old and was never able to experience college life.
"I really enjoy [discussing college], because I never went to college. I've always wanted to get a feel of what college life is like. I'm always glad to hear about her courses and all," Macks said.
Despite being from different generations with opposite geographic backgrounds, Domergue and Macks have a bond that one may only see once in a lifetime.
"During one of our last meet-ups before leaving to study abroad last summer, Sylvia said to me, 'When I met you, it was right after my husband had passed away. And I do have friends here who I eat with and talk to. But you, you are my friend,'" Domergue said. "Sometimes it takes being away from someone to realize just how close you've become with them, which is why Sylvia's words really left an impact on me. It demonstrated just how close Sylvia and I had grown through the years."
If anyone is interested in participating in the Senior Buddies program, contact Annette Broersma (805) 492-2471 at The Reserve in Thousand Oaks. Broersma is a former career director at Cal Lutheran.
"I'm sure there are people here who are interested. While I know the program usually only lasts a month, I definitely got a bonus with Gina," Macks said.
Tate Rutlland
Staff Writer